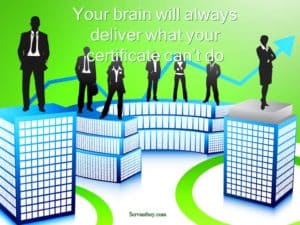 It is a known fact that we are in the era where people brag about their certificate. You hear something like: I came out with a first class or second class upper or distinction etc.. Some will even say I went to an ivy league school just to proof a point.
This title came as a taught to me as a result of what I saw on my way to Abeokuta from Lagos yesterday(24/01/2017). I was in a public transport yesterday and the conductor was speaking anyhow to the passengers and the frustration in this man's eye was highly noticeable. I noticed that the man speaks fluent english and he kept saying" if not for the situation of this country I should have been a better person, after all, I graduated from University of Ilorin where I studied Law in 1998 and finished NYSC 1999″. This statement caught my attention and it set my mind into thinking. I was able to understand that life is about choice. He could have chosen to do something more honourable than being a conductor though with lower pay and this will safe him of some frustration.
I can still remember those years when our parent will tell us if you have first class or second class upper grade out of University you will land your dream job. I can tell you categorically that this is becoming a myth in this present age. Your class of grade or your certificate is not a guarantee for a successful life. I can feel the pulse in someone's heart raising at the statement I just made. Let me clearify myself, certificate is important and also highest class of grade is important. The problem is when you take it as all you need to survive or excel in life.
You need to recall that your certificate or your class of grade is a function or product of your brain. It is the working of your brain that helped you to get to that academic height. So, that your brain should not be let down or abadon in the real life issues. What will always differentiate you from your colleagues is how effective you use your brain to deliver your desired result.
I asked my wife a question, I said " if suddenly you notice a competitor close to where your business is situated, will you go home and take your certificate to help you out?" She smiled and said NO, meaning what she needed in that particular situation is the startegy to deploy for her to be at the top of her business, so as not to lose existing customers and potential customers.
For job seekers you must also engage your brain while searching for job. Think through and follow through whatever result your brain delievers to you. Different ideas come to our brain that need to be process and follow through so that we won't hang in the midst of joblessness. Engaging your brain will deliver a fantatic result you could ever imagine.
In our various places of work we need our brain to be a top notch employee. This can be possible when we think through ways and strategy to move up the ladder in our career path.
To excel in life, to safe our self of depression and frustration we must constantly engage our brain.