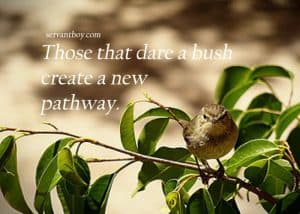 Masters are born, they were once a servant, they are trained and sent to reproduce their trainings. Masters are not the best they are the custodian of skills and yet possess abilities to produce best.
Our world is moving towards recognizing masters of one and if you don't understand this single principle success might look like luck to you. Many are known but known for nothing due to neglecting this principle. Legends are men with specific goal something to describe their entirety.
In a competitive world like ours there is a danger to be all in all you might be successful but lose legacy or burn out your energy to achieve little, that will pain you more.. Success without legacy is an end without beginning. Proving our mastery is not an over statement in a world of champions like ours. I don't mean to be rude but have you asked yourself what will I be remembered for? No matter how you see life or the way you have been treated you have what can make you a master.
What to overcome
Feelings of no hope: It's normal to feel tired of life especially when life is sapping your energy with no one to help you out neither encourage you, struggling to have things and at the end you have burn lots of energy on little things. But still friends you can't lose hope you just have to keep moving until you get there.
Lack of company: Life can be rigorous to a point you lose your friends, neighbors I mean everyone seems to be far from you, it looks like you are alone in the journey. Am telling you real masters and champions won the battle of loneliness, whether people like them or not or the world seems falling on them they are just focus and never changing.
Fear: You mustn't be afraid of anything you must be already to dare anything in your life. Only those that dare a busy create a new pathway.
What makes you a master?
Challenges: Challenges are very vital to one's progress in life. The day you stop facing challenges it means an end has come. I rejoice at challenges because they are what qualify you to new levels, they are your witness when men challenges your authority. Paul said "have I not seen christ" for "I bear in my body the mark of Christ." Am not saying is going to be fun am saying it's making something good out of you. Just watch it.
Knowledge: Have you ever sat with some old folks and you wonder how come they know so much? Ofcourse there is knowledge in books yet true knowledge is found in what we pass through in life. You see no matter how smart you are you can't outsmart a man who speak out of many waters. Do you know why? Because you have never been there you only read it. There are things you must experience yourself before you can express it accurately or else you hit a rock unknowingly. Am sure you understand me huh?
Nature: Embedded in nature is source of creation directives. You need to see fishes in the blue sea, how animals obeys the rules of nature and co-exist etc nature possesses one of the most authentic hidden wisdom and knowledge of creation which very few have paid attention to. Do you know nature can heal emotional pains? Well this talk for another day.
Discipline: Your ability to think back and look into the future and extract out your errors and correct them is an act of masters. Time is the least thing masters worry about because mastery is an understanding of time.
God bless you.