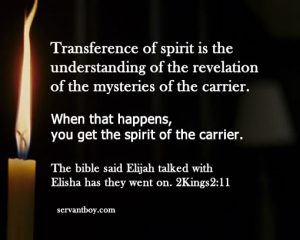 Paul came with a deep mystery of the revelation of Jesus Christ, even though Peter said it's a hard saying yet possess the ability to understand what Paul was saying. We might not be at the same level but should be able to absorb the truth at all levels. It's obvious that the division and misunderstanding in the body of Christ today is as a result of faulty or corrupted spirit. The issues is not the believing or the confession rather what was the word spoken to you for the establishment of your faith (Believe) in Jesus? The life (Spirit) of the preacher is as viable as the word spoken by him. So many words on our altars or pulpit today went forth without producing acceptable kingdom fruit. Jesus said bear fruit and ensure it remains.
State and Quality of a Seed
The word of God is a seed and you will agree with me how a tree will look like is not by the cares or ground the seed was planted rather if the seed is of the same kind. They also matter but the first of all is the kind of the seed.
Thou shalt not sow thy vineyard with diver's seeds lest the fruit of thy seed which thou hast sown and the fruit of thy vineyard be defiled. Deu 22:9 KJV
For we are not as many, which corrupt the word of God but as of sincerity, but as of God, in the sight of God speak we in Christ 2cor2:17 KJV
…A corrupt tree bringeth forth evil fruit Mat7:17
Note: There is no serious farmer that plant anyhow seed, they selectively choose what to sow because you will reap what you sown.
The outcome of every born again spirit is determined by the content of the word preached. The word of God is in levels and qualities but I will talk on the level every born again spirit can find himself.
1.The Milk level                          2. The Water Level              3. The Meat
Honey/Butter Level 5. Wine Level
Every preacher of the word of God operates at this frequency in getting men born again. You see we are not at the same level in the word of Faith, have seen men of God preached in wine level and the experience left a scar in my spirit. It's the highest level and depending on the skillful of the drunkenness of the man of God. How you move a meeting as a preacher is dependent on the level you are operating.
But he that receive seed into the good ground is he that heareth the word and understandeth it; which also beareth fruit and bringeth forth, some an hundred, some sixty, some thirty. Mat 13:23 KJV
If not that there are differences in the content, state or quality of a seed, how possible is it for a seed to produce differently in the same good ground? So the issue is not the ground rather the seed. And every believer will produce at this level.
Note: You can only produce at the level of the word capacity you possess. No preacher or evangelist will produce beyond the quality of his seed.
The Hidden Mystery of Seed
It was during my time as the leader of a group in my final year, we were preparing for evangelism into a village when I heard a witness in my spirit, Son how I wish you don't go for this evangelism and I replied Lord  it's an ancient pattern in this fellowship I can't stop it. The Lord told me it will do more harm to him than good, for evangelism is the act of kingdom delivery.
As a young brother I didn't understand what the Lord was saying. So when I came back I sat with my bible to understand what he said.
For if we have been planted together in the likeness of his death, we shall be also in the likeness of his resurrection. Rom6:5 KJV
Upon Jesus was given the spirit without measure, not because God was biased nor Jesus was given special treatment above us rather Jesus came to reproduce new covenants packages, he came as a mother with fullness of what the kingdom stands for. So every believer has access to an unlimited spiritual experience in Christ. Let me tell you this, anyone can understand deep mysteries of the kingdom if reproduce properly into the kingdom.
So being born again is a spiritual reproduction of the status of the spirit man of the mother. So the Lord told me I have unhealthy issues in my spirit which I have to resolve before evangelizing. Haha I was shocked at this revelation because no one ever told us being born again is a replication of one's spiritual state, all I know is grace has done everything, which one is reproduction of the spirit man again I questioned?. That means if you are suffering in your spirit with masturbation, pornography, drug abuse, corrupt word of God, unbelief etc and you go out for evangelism all this things get replicated, reproduce or planted in the new born again spirit.
How many ministers are suffering from divers issues, not turned, unbaked, and members are the ones experiencing the manifestation of the corrupted spirit?
If a man therefore purges himself from these, he shall be a vessel unto honor, sanctified and meet for the master's use, and prepared unto every good work. 2tim2:21
Now the end of the commandment is love out of a pure heart, and of a good conscience, and of faith unfeigned 1tim1:5
Holding faith and a good conscience which some having put away concerning faith have made shipwreck. 1tim1:19
You can make a u turn today by identifying the shepherd of your soul and I tell you he will know what to do for restoring your spirit back into Christ Jesus. Find the shepherd of your soul before the unfaithful servants finish you with deadly teachings, lifestyle and cripple your spirit.
And the things that thou hast heard of me among many witnesses, the same commit thou to faithful men, who shall be able to teach others also. 2tim2:2
Someone said you can preach what you know but you will produce who you are. You cannot turn clay into gold.
Power of redemption part 1
Power of redemption part 3
Joseph Sam.
Follow us on twitter.com/servantboi, facebook.com/servantboy1
God bless you