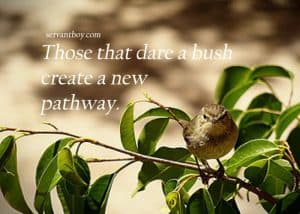 Bitterness and self-pity are result of comparison. One fact one must acknowledge in life is that you are unique: your values are quite different from any other person. Comparing yourself with others makes you look away from your values and makes you think you are valueless compare to others.  It is very common to hear people say "how I wish I am someone's son or daughter or how I wish I am someone else". This kind of wish is self-defeating because you have seen yourself as good for nothing or somebody who nothing good can come out from.
It is common to hear student saying "If the brilliant of us doesn't understand this topic, I can never understand it". Such student has already put a limit to his/her level of understanding. Sometimes you hear words like "why is my life like this, my friends are going up academically and it seems mine is stagnant" This kind of comparison kills happiness. You can never be happy if you allow such thought to occupy your heart.
Although, when you see people excelling financially, academically and socially, you may be tempted to have negative feelings about yourself due to unhealthy comparison. But you must not allow this kind of thought to stay because it will kill your joy and feel your heart with bitterness. You must always remember that you are unique and your values are different from others. You should keep at what you do and put in your best, you will definitely excel in life.
There is nobody that enjoys life to its fullness by comparing himself with others. The bible says " 2 Corinth 10:12: We do not dare to classify or compare ourselves with some who commend themselves. When they measure themselves by themselves and compare themselves with themselves, they are not wise." There is no wisdom in comparing yourself with others. Save yourself from bitterness.