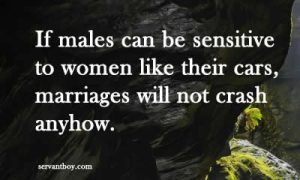 No man desires to buy a new car without considering the cost of maintenance and we all know the higher the cost of the car the higher the cost of maintenance. You can't desire a classic beautiful girl without a strong financial backup, you see these things are reality. Consider yourself as a father who sent his beautiful daughter to one of the best institution, did everything  he can to make her etc will you give out your daughter cheaply to any man? Everyone buys a car according to their capacity, you are expected to buy what you can maintain or else you will be frustrated. It will take a girl with low self esteem to be in a relationship with a guy who has yet to discover the man in him.
Causes of failure in relationship are more of lack of maintenance than external forces. And our negligence in facing the realities of who we are has brought many marriages down. Facing the realities of our weaknesses will help us in choosing rightly because each and everyone of us has different satisfying level though it doesn't guarantee a lasting marriage but it makes you responsible for whatever the outcome is. Your very first step into successful marriage is getting what you like, that man/woman that satisfies you. There is no reason to pick in haste, calm down your emotional system, everybody is facing emotional stuffs, don't allow it to push you beyond your dream partner.
Basic understanding of relationship
Responsibility: Relationship is a bunch of responsibilities and where there is lack of responsibility frustration set in. Have often ask those in relationship what was their purpose of being together? You hear the guy giving flimsy reasons. And have argued this several times, if not for sexual reasons a lot of young guys in relationship aren't fit for it. Someone that cannot answer to the basic needs of his own life, that's the person a girl is dating. If God is to decide and allow sex without marriage am pretty sure a lot of guys will not marry. It's very important for a girl to differentiate between a guy who is looking for sexual partner in a legalize manner and a man who is looking for a seed. When males cannot hold themselves they naturally resort to marriage with plenty of issues in his life to solve. Religious brother will say she just have to believe in him; on what bases is that kind of faith? God created a man who was highly responsible and had basic needs of life meant before eve came, there was no need for eve to say YES she just follow. There is no need to look for relationship if you don't have the basic needs meant. The core value of marriages today is a way of legalizing sex not for building anything serious. Isaac was forty before getting married not because he was poor and I believe he knew what he was doing. I believe if a lot of marriages had waited alittle bit to settle something's in their lives maybe things will have been different.
Some basic responsibilities
Financial Status: Money answereth a lot of things and can keep a candle light love for years. To me personally it's not a sin for a girl to ask about the financial status of a guy before entering into relationship. Let her know the dice on ground, so she can know what she is putting her neck on.  If her faith cannot take it let her go. This is not 1930 when cassava flour cup is sold at 50kobo. A lot of ministers that tells you I and my wife were in relationship when he had nothing cannot give their daughters to a brother in their ministry with the same financial status they had during their time because have never seen a 21st century men of God that gave their daughter to a poor brother that is using faith. Anyway their daughters are not even available at your disposal. So it's very important you know we have different definition of poor these days. Like bill gate "he said he came from poor background." I laughed when I had that though I was told he said so but if true then he is deceiving the whole world. Please confirm the background of people that says am poor before comparing your life to their life or else someone will be comparing Mark Zuckerberg (poor people don't attend Harvard, I hope you know that) background to yours and put you into frustration. I believe in growing steadily in life because systems, platforms, background matters in the life of each and every one of us. It will be foolish to overlook such because an average Nigerian cannot boast he studied the course of his choice talk less of making waves with a course even the lecturer teaching us doesn't know. Is it this kind of frustrated life you want your girl to come and share with you? If we say females are money driven should they be poverty driven? I will still argue it till tomorrow a man without strong financial status shouldn't have a partner, let him face his life instead of wasting the little change he has on a girl and latter complaining the girl isn't appreciating. Am a pastor and I will never give my daughter to anyhow brother.
How to measure your financial status
This isn't a lack of faith rather it's called planning.
Your certificate: You need to face the reality of what you came out with in higher institution. You came out with 2:2 or 3rd class, relationship shouldn't be what catches your attention. I prefer you stretch out plans of overcoming the pressure of what you came out with. Certificate still holds a greater advantage and future if a girl should consider your proposal but a poor result doesn't mean you cannot make it but you have to put balls rolling to proof yourself.
Background: One thing a reasonable man shouldn't do is to copy or comparing because you will be amaze how your friends will leave you behind when their supports start coming to help them out of their ordeal. A girl should naturally watch the background capacity of a man she is choosing. If the background are responsible you can be sure of a successful relationship atleast to a length.
Relationship: Looking into the kind of relationship your partner is keeping goes along way in determining what happens in the future. Relationship are shock absorber, how dependable are his relationship? are they responsible friends? Either you like it or not the kind of friends we keep goes along way in determining somethings.
Environment: You will agree with me cars doesn't function the same at different environment exposure. No matter how beautifully designed the car was if exposure to unlike environment the car was not designed for it will crash. Environment has an impact on the functionalities of equipment, infact it determines how lasting the equipment will be in use.
The environment a man puts/gives a woman can determine her attitudes and functionalities sometimes, it has a way of changing our action or reaction to certain issues of life. Though it costly to setup an environment but everyone can provide according to their capacity.
Setting up an environment
Smooth road: Am not sure it's wise to buy Bentley and be driving like taxi drivers in Nigeria? You should naturally avoid roads with potholes. Smooth roads means a way of life, a kind of life comfortable for nurturing your woman. If you want your woman to last then there are some measures you must take to ensure she stays healthy and beautiful to behold. You cannot subject her to some stress and tension and expect a good output. I don't know how to explain this but if you give your woman a good life she will produce a sweet smiling life for you. Don't over use her, don't drive her crazy like bicycle, she can feel how you handle her. Create a system in your relationship that is a routine e.g telling her stories every night isn't bad, taking her out every last Saturday of the month, oh yea I remember, writing love letters to her, toasting her on whatApp etc have a working system that create an atmosphere of love and am pretty sure all this sexual uproar in many marriages will never happen because a woman will naturally give you the best if you care for her. Start a working system today.
Sensitivity: The way some males respond to their cars if they can do such to their partner am sure marriages will never have issues. I was inside a pastor friend and he told me his car had issues although the car never stop nor look like it has any issue but he said the car was sounding somehow. And we went to a workshop nearby and waited for hours to fix that problem. If that attitude was employ in marriages that a change in your partner voice means a lot to you, it will not have accumulated to the point of her bursting but because many times we males play I don't care attitudes to the words of their partner and ofcourse traditional issues are part of the problems contributing to the ways many males disregard their partners opinions on issues. You cannot always be right as a male, nobody does an all know, and learning to learn is a true leadership skill. We should be highly sensitive to some particular period in the life of our partner and i feel like listing some critical things every partner should pay attention to:
Mood: There are times in which your partner is just not in mood and those times require you to let each other be. Just give her/him some space to breathe then latter when he/she is ok pet him/her. But that's the time some partner will be looking for sex and some emotional play that the other party isn't going to benefit from. Every one of us deserves some quiet time to be alone even in marriage. Be sensitive to your partner mood, it will help a lot.
Haa guys am pretty tired now, am so sorry for not posting on relationship for some time but believe me your all on my mind. Love you all.
Follow us on twitter.com/servantboi, facebook.com/servantboy1
God bless