NNPC/Shell SNEPCo Scholarship 2017/2018: Application is hereby invited from Nigerian students who are in second year (200 level) of full-time study in a Nigerian University accredited by the National Universities Commission (NUC) for SNEPCO scholarship 2017/2018.
The Shell Nigeria Exploration and Production Company (SNEPCo), its co-venture partners and the Nigerian National Petroleum Corporation (NNPC) hereby invites applications from qualified Nigerian students for the 2017 NNPC/SNEPCo National University Scholarship Programme. The programme aims to promote academic excellence and improve the skills of young Nigerian. It provides yearly grant to the successful applicant from their second year (200 level) to the completion of their degree programme.
The Shell Nigeria Exploration and Production Company (SNEPCo) pioneered Nigeria's deep-water oil and gas production at the Bonga field, a project that increased Nigeria's oil capacity by 10% when output began in 2005. At full output, Bonga has the potential to add more than 200,000 barrels of crude oil and 150 million standard cubic feet of gas to Nigeria's daily production.
NNPC/SNEPCo Scholarship website is now opened for those that are yet to apply (APPLY 2017 NNPC/SNEPCo)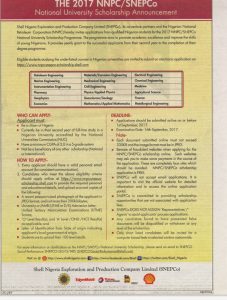 FOR THOSE HAVING DIFFICULTY TO APPLY FOLLOW THE IMAGE BELOW IF YOU ARE USING GOOGLE CHROME
Login through the url provided: this is the page that will display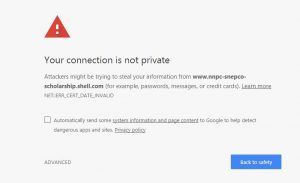 2. Click on Advanced: the page below will display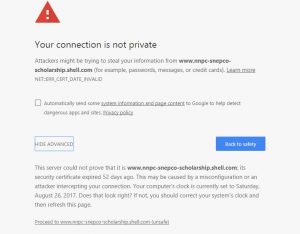 3. Click on proceed to www.nnpc… , and you will be taking to the home page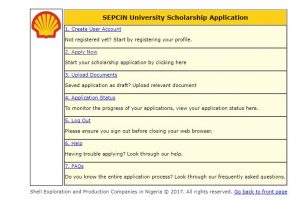 USING FIREFOX
After the error page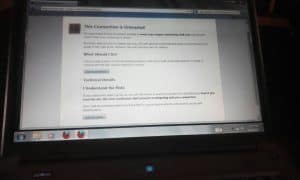 2. Click on Add Exception
3. Click on exception and the home page will show
You can access the site at any time of the day.
UC browser
You can try uc browser on your mobile phone if firefox or chrome fails to open it on your laptop.
Note: Make sure you use a very good network with fast speed in your area
NOTE: use a laptop with google chrome and firefox. One of the two will work.
Eligibility Criteria
Applicant must:
Be a citizen of Nigeria
Currently be in their second year (200 level) of full-time study in a Nigerian University accredited by the National Universities Commission (NUC)
Have a minimum CGPA of 3.0 in a 5-grade system
Not be a beneficiary of any other scholarship (National or International)
How to Apply –Method of Application
SNEPCo will not accept email applications. Eligible students studying the eligible courses listed above in accredited Nigerian universities are invited to submit an electronic application on the official website (see below). Please note the instructions below:
Every applicant should have a valid personal email account (for consistent communication).
Candidates who meet the above eligibility criteria should apply online at APPLY 2017 NNPC/SNEPCo(https://www.nnpc-snepco-scholarship.shell.com)  or try this alternative link www.nnpc-snepco-scholarship.shell.com/Home.aspx to provide the required personal and educational details, and upload scanned copies of the following:

A recent passport-sized photograph of the applicant in JPEG format, and not more than 200kilobytes;
University or JAMB (UTME or D/E) Admission Letter; Unified Tertiary Matriculation Examinations (UTME) Scores;
'O' Level Result(s); and 'A' Level /OND /NCE Result(s) as applicable; and
Letter of Identification from State of origin indicating applicant's local government of origin.
Students are to upload their 100 level results.
It is important to read the scholarship announcement, and also visit the official website (link to it is below) for detailed information and to access the online application portal.
DEADLINES: Application submission on or before September 15, 2017. However, the deadline has been further extended to September 30, 2017

PLEASE NOTE:
Examination date: The test date is Saturday October 14 2017. 
Shortlisting has begun for SNEPCO scholarship, sms is sent to shortlisted candidates.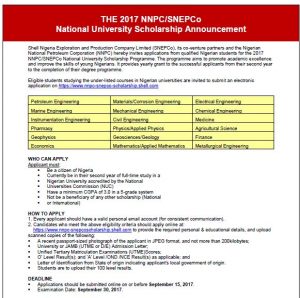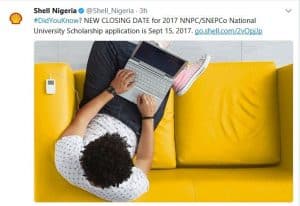 The second image is from Shell Nigeria official twitter handle to confirm that the deadline for application is
15
September
(
@Shell_Nigeria
You can download the announcement bulletin here for the new deadline
Each document submitted online must not exceed 200KB and the image format must be in JPEG.Beware of fraudulent websites when applying for the NNPC/SNEPCo scholarship online. Such websites may ask you to make some payments in the course of the application. These are completely faux sites which should be avoided. NNPC/SNEPCo scholarship application is FREE. SNEPCo will not accept e-mail application. It is important to visit the official website for detailed information and to access the online portal.
Materials needed to prepare for nnpc/snepco scholarship National University examination
What I want to discuss is my personal opinion and not from NNPC/SNEPCo. However, from the information gathered from those that wrote the examination last year, it was gathered that the format of the test will be communicated if you are shortlisted. The format for last year was Mathematics (50 questions, They were pure mathematics questions with some traces of basic further mathematics question (basic calculus)) and English 50 questions (Antonyms & Synonyms & other normal lexis and structure Comprehension passage).
Last year calculators were not allowed and it was CBT.
SNEPCO Scholarship past question: Lay your hands on JAMB past questions and study tthem. It is now common that snepco aptitude test is from JAMB past questions. This is what my students who won the scholarship told me.