The Technical University Ibadan has received the nod of all regulatory authorities to commence academic activities from the current 2017/2018 academic year. Consequently, the University will admit the first set of students to all its academic programmes in the current admission cycle. All candidates interested in being considered for admission to any of the 15 accredited programmes are hereby advised to apply to JAMB for a change of University to pick The Technical University, Ibadan as one of their choices. JAMB will thereafter forward the details of each candidate that applies to the University for further consideration.
For further clarification, please contact dapp@tech-u.edu.ng.
The Technical University is at Km 15, Ibadan-Lagos Expressway, Oyo State.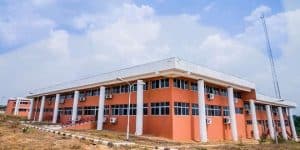 Departments
Biological Sciences
Physical Sciences
Mathematics, Statistics & Computational Sciences
Biomedical & Environmental Engineering
Electrical & Mechanical Engineering
Mining & Geological Engineering
The Fifteen accredited programmes Programmes:
Microbiology
Industrial Chemistry
Physics with Electronics
Computer Science
Cyber Security
Software Engineering
Mathematics
Statistics
Agricultural & Environmental Engineering
Biomedical Engineering
Food Science & Technology
Electrical and Electronic Engineering
Mechanical Engineering
Mechatronics Engineering
Petroleum Engineering
The institution has added additional two faculties to the existing ones- Centre for Entrepreneurial and Vocational Studies and the Centre for Language and General Studies to provide a well-rounded education.
To apply, visit the official page of the University: www.tech-u.edu.ng
News update about Technical University in Ibadan
The Technical University in Ibadan is set to begin operation in January 2018 five years after the National Universities Commision, NUC officially recognised the institution.
The Vice-Chancellor of the University Prof. Ayobami Salami while meeting with pressmen announced that the university would commence academic activities from Sunday, January 7, 2018.