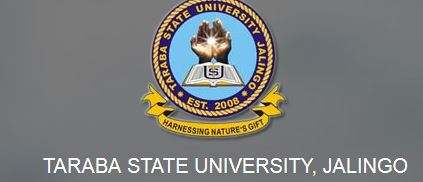 2017/2018 Online Application to the Taraba state University has commenced, Click here to begin your application.
Please note that candidates with Jamb score of 180 above are eligible to apply. Thank you.
Thank you for your interest in choosing Taraba State University, Jalingo, as your preferred institution of higher learning. The University's application process is simple and concise.
kindly ensure you follow the instructions below:
(i) Create an Account using your preferred username, password, email address and phone number.
(ii) Click on the button "Pay Now" under select payment option to make payment.
(iii) Follow instructions to make payment through the e-payment gateway.
(iv) Upon receiving successful payment, click on "continue" to complete your registration by providing your bio-data information, including schools attended, O' Level results and Jamb details.
(v) Upload your passport photograph and other information as required, (i.e. O'level result and pin).
Note: Attach your scratch pin for your result, without this, your application would be nullified and you will be disqualified.
(vi) Tick to accept the certification and click the 'Submit Application' button to save your details on the University Portal.
(vii) Print Application slip and Acknowledgement slip.
(viii) Always visit your email address, account and/or University website for update on your admission status.
Also, ensure you keep your USERNAME and PASSWORD handy; they are your login requirements to log in to the application portal. Wishing you the best!
Please note that; Falsification of documents is a serious offence. Candidates are therefore advised to submit genuine credentials only. Anyone found guilty of this offence will be disqualified automatically and in appropriate cases, be handed over to the Law Enforcement Agencies.