The general public is hereby informed that the 2017/2018 admission list for Bayero University (BUK) UTME and Direct Entry applicants, is now available.
To view the list click on the link below
Click here to view BUK DE admissions list 2017/2018 pdf
Click here to view BUK UTME admissions list 2017/2018 pdf
Notice: This is to notify all newly admitted undergraduate students that screening has now been postponed from 27th December 2017 to 2nd January 2018.
There is a need for the newly admitted students to know a little bit about BUK. And that is the reason for short article below.
BUK core values
i) Humanity and sacrifice
ii) Disciple and commitment
iii) Integration and active learning
iv) Professionalism and good governance
v) Innovation and creativity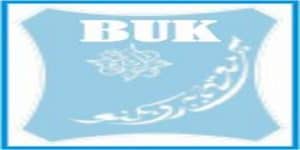 CREST AND MOTTO
The insignia of the Citadel, is a shield, on which are a crescent and a star, rendered in beautiful Arabic calligraphy, an art form prevalent in the larger community.
SHIELD
Symbolic representation of the industry and learning Kano has been renowned for centuries. The shape is that of a tanned animal skin, alluding to the centuries old hides and skin industry; and a slate / tablet used throughout the sub-region in schools from ancient times to date.
CRESCENT
The calligraphy in the crescent unfurls into the phrase Jami'atu Bayero Kano, which in English translates to "Bayero University Kano", alluding to the centuries-long local scholarship of a bilingual nature.
STAR
The star-shaped calligraphy is the motto of the citadel, a graphic pun, excerpted from the Holy Qur'an. "Wa Fawqa Dhi Ilmin Alim" It echoes an eternal truth that also underlines the humility and sense of service the community has come to expect from its stars in the learning firmament: "… And above every possessor of knowledge, there is one more learned".