JAMB CAPS is activated for admission status confirmation. UTME and Direct Entry Candidates who want to check their JAMB admission status can now visit the Central Admission Processing System portal (CAPS) inducted by JAMB to check their JAMB admission status. This will enable candidates to Accept/Reject admission offer by their chosen University.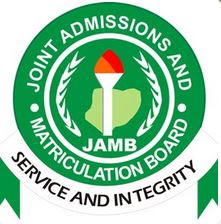 The step by step procedures on how to check your JAMB admission status on JAMB CAPS
1. Visit the official jamb portal preferably www.jamb.org.ng or click directly on Jamb Caps login http://www.jamb.org.ng/efacility/. You can also Login to JAMB CAPS portal http://caps.jamb.gov.ng/
2. Click on check admission status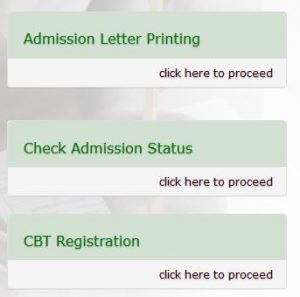 3. Login with the credentials( email and password) account you have created with JAMB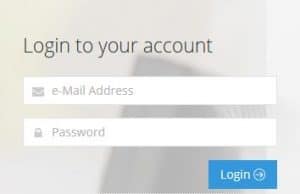 4. Click on Login
click on the options button ( the button with 3 dash) at the top of the page.
5. CAPS is under the tag 'Admissions'. Click on it and you'll be taken to the CAPS page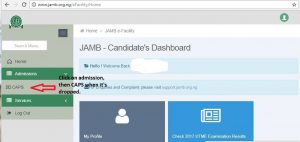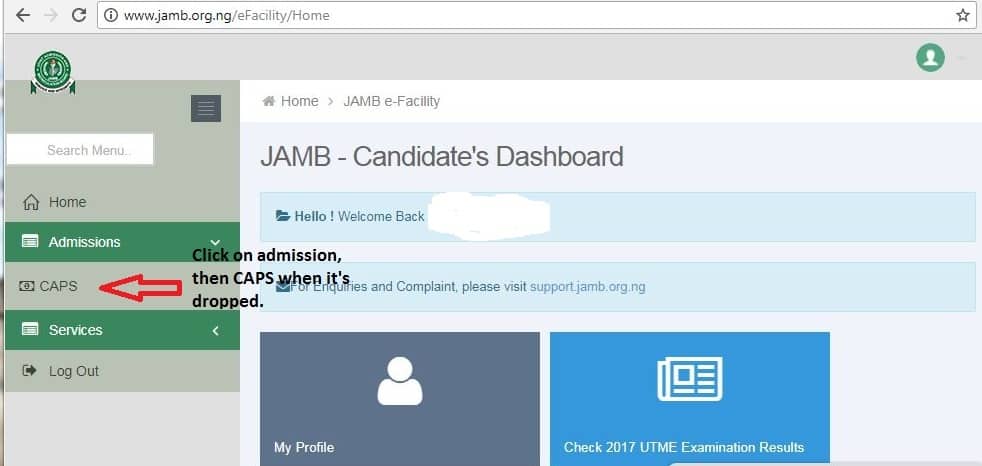 6. There is an option on your left hand-side, Click on 'Admission Status'.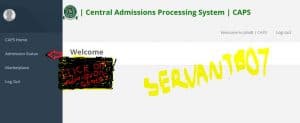 7. Your admission status will be revealed.
If you've been admitted, you can either Accept admission or Reject admission.
Additional information on how to use JAMB CAPS before you accept or decline admission
(i) Institution forwards recommended list to JAMB desk officer
(ii) Desk officer processes recommended list and generates list of provisional admissions
(iii) JAMB contacts candidates to accept or decline admission
(iv) If candidate accepts, admission is concluded for candidate
(v) If candidate declines, s(he) is returned to market place for possible consideration by other institutions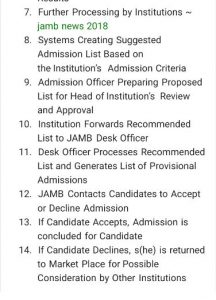 Recommended: Intensive training and sensitization forum on JAMB admissions processing system
If your school is yet to release admission list, it will read: "admission in progress, check back later" under the tag 'Admission Status'. In this case, you won't be able to click on the 'Accept admission' or 'Reject admission' button. And don't panic if you didn't see 'Accept admission' or 'Reject admission' but continue to check CAPS website as the site is being uploaded daily as institutions forward recommended list to JAMB.
Some Frequently Asked Questions by candidates about JAMB CAPS and likely answers
(1) If you see "Subquery return more than 1 value…" when you tried to login. It may be that you use the same account for DE and UTME. Don't Panic, it will be resolved.
(2) If you login and notice invalid credentials, check whether you input the correct Jamb registration number and password. Also try to change your password. But note, use a computer, immediately you click on reset password, Jamb will send a link to your e-mail address, go to your e-mail address and click on the reset password link for your to reset the password. The reset password link only have like 2-5minutes before it becomes inactive. Once you have done that you will be able to access your admission status with the new password you have reset.
(3) If you see "approved" on your CAPS dashboard, it means you have been offered admission
(4) If you see ""Admission in progress" on your dashboard, it means you should check back later
(5) If you mistakenly click on 'accept admission' and you haven't been offered admission by your institution, there is no need to panic.
Recommended: How to Print JAMB Admission Letter