BBnaija double wahala has finally given out the question of the week. Viewers stand to win one million naira if they get these question right.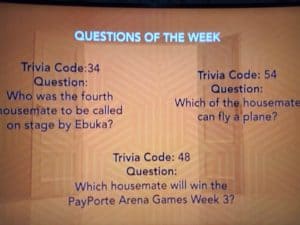 There is a cost of fifty naira charge on each prediction you make and you can visit there online link https://bbntrivias.com/ to predict. Don't forget its just a game, play wise.
How to Win
You can participate through USSD, eg. For GTB users dial: *737*33*2509*TRIVIACODE+ANSWERCODE# For FIRST BANK Users dial: *894*84902509*50# Other Banks Dial: *402*84902509*50# PLEASE NOTE BOTH TRIVIA AND ANSWER CODE ARE TWO DIGITS
You can participate through Web channel bbntrivias.com A default trivia is displayed depending on the current trivia running Select "Other trivia" if the default trivia is not what you want to predict , select the trivia you want to participate. After selecting the trivia you wish to participate in, click on the select button i.e the Answer code this is the housemate's code which will be displayed Next, input phone number, An OTP will be sent to the inputted phone number which will expire after 5 mins. On successful verification, a payment modal is displayed, where card details are to be inputted. Upon successful payment, the prediction will be submitted/successful.
You can participate through Local Agents,
– Viewers walk into any of our authorized prediction center
– Pays agent trivia fee, agent logs in on bbntrivias.com
– Selects trivia a question
– Selects preferred contestant's id
– Agent inputs viewer's phone no and a confirmation SMS "OTP" is sent to the viewer's phone number
– Viewer inputs OTP
– A payment modal pop ups agent inputs card details & submits
– Card and payment verification is done
– Prediction submitted