What a difficult night for the young lovers as things getting more confuse on what might happen on sunday or even next week.
It all started when biggy paired cee c and lolu as the new strategic partner even if they survive the eviction for this week. And ofcourse it was a punishment given to both of them as they refuse to cooperate with each other when biggy started shuffled partners in the house this week.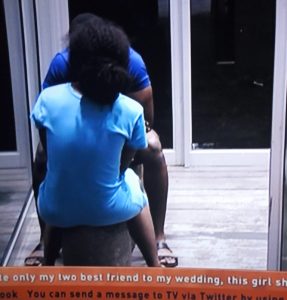 Early this morning madam cee c suddenly woke her man up around 1am for discussion lol. I mean it's odd, she looks curious and obviously wanted to know her fate with tobi (a guy who looks like a yoruba demon, no one can say what this guy is up to if cee c finally gives in). Well cee c want them to start afresh like being friends and somehow cee c look like these kind of girl who want reassurance of your commitment all the time. Whether tobi is ready for such a relationship we don't know but it's obvious cee c can put her life on line if she see faithfulness in her man.
What do you think of cee c? A possessive girl or A jealous girl or A girl who want to know what she is putting her leg into? Before judging her, try to put yourself in her shoes.
Follow up happenings in bbnaija double wahala 2018