Note: This page is strictly rated 18.
Its indeed double wahala for viewers all over the world watching bbnaija. What a beautiful time they had earlier this morning as mr miracle the pilot guy and his other housemate dee one celebrated their birthday in a grand style and ofcourse biggy lit the all show for them with enough drinks and eatable things.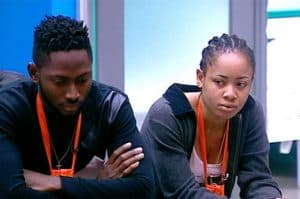 Afternoon session also went well with the housemate and don't forget today is weekend which means they had their party together with the celebrant which obviously put petrol to the fire on ground.
It all started with kisses for over 20min with miracle and nina which i guess everyone are use to their kissing lifestyle but suddenly mr pilot started piloting something and the bed-sheet kept shaking. Well to journalist and bloggers like mine who are new in entertainment world can't believe bbnaija as such rule protecting housemate sexual right if it is mutual agreement they can have it. Yes!!! I was surprised, but anyway the video is there for everyone to watch and judge.
Maybe its a birthday gift for miracle, as he's full of miraculous things.