According to the information reaching me, the Joint Admission and matriculation board has started sending the candidate's examination center. JAMB examination centres are being sent via candidates e-mail address and can also be viewed by vising your JAMB profile.
How to check JAMB centre
Candidates should check their email because JAMB is now sending the details of students centre and exam date. Make sure you print the message for you to take along it along to your centre on the examination day.
Alternatively, you can visit your jamb profile to print it out before the examination day. To know how to print your JAMB slip click here.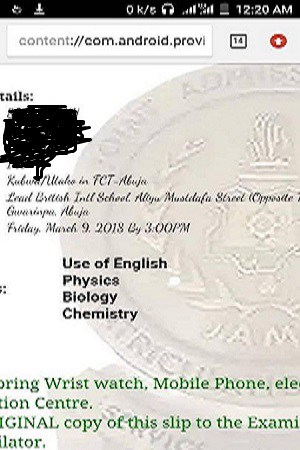 The information contain in the message or JAMB slip
(i) Examination date and time
(ii) Examination venue
(iii) JAMB subject combination
(iv) JAMB registration number
Important information to note on the message or JAMB slip:
DO NOT Take Your Mobile Phone or Bag to the Jamb Exam Center.
Take your original Jamb slip along to the examination venue.
Keep a copy of Jamb SLIP for reference purposes.
Your Biometric (Thumbprints) Verification is COMPULSORY at the Examination Centre.
You will be marked absent if you go to the center very late
NO Change of Subject in the Examination Center.