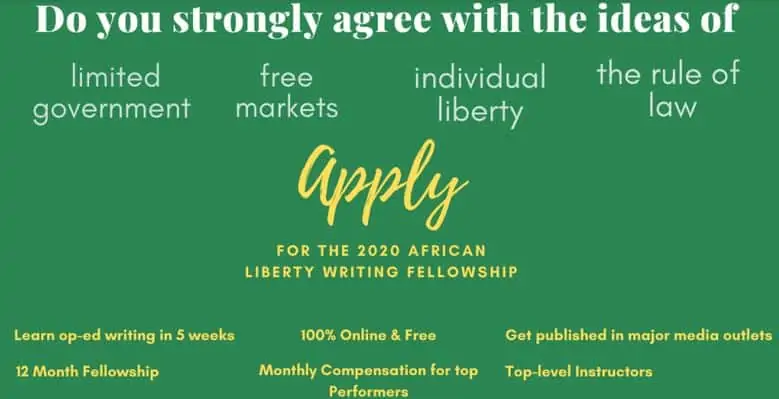 The African Liberty Writing Fellowship program is designed to identify promising freedom-minded African writers and provide them with the skills required to be successful in op-ed writing.
Accepted applicants will complete a 5-week mandatory online course after which all candidates will be evaluated. The top twenty candidates will be recommended for admission as writing fellows.
Do you strongly agree with the ideas of limited government, free markets, individual liberty, the rule of law? Apply for the African Liberty Writing Fellowship, a 12-month fellowship with monthly compensation for the top performers. It is an opportunity to learn op-ed writing in 5 weeks, 100% online and free, get published in major media outlets and gain access to top level instructors.
The registration for the fellowship will close on 30th April, 2020.
African Liberty Writing Fellowship Program Eligibility
The fellowship is open to all aspiring and current writers in Africa.
Candidates are required to complete the application form.
Top 50 applicants will be admitted into the program for an intensive online 5 weeks training.
The top 20 candidates will complete a year long fellowship with African Liberty.
Benefits
Successful candidates will receive:
Training by international editors
Opportunity to work with think-tanks in the USA
Bylines in local and international media
Monthly stipends for articles published
African Liberty Writing Fellowship Program Registration Procedure
There are no application costs attached to this fellowship. Interested writers are encouraged to download and complete an application below. Click here to download the application form.
For more details, kinly visit the official link.