Guaranty Trust Bank is currently accepting application from fresh graduate into its GTBank Tech Academy 2019.
The deadline for application is not specified, however, it is pertinent if you are qualified for the programme to apply early before the application window close.
Are you techy, a fresh graduate of Engineering, Mathematics, Physics, Computer Science or Statistics, and ready to change the world a code at a time?  Then it's time to join the GTBank Tech Academy.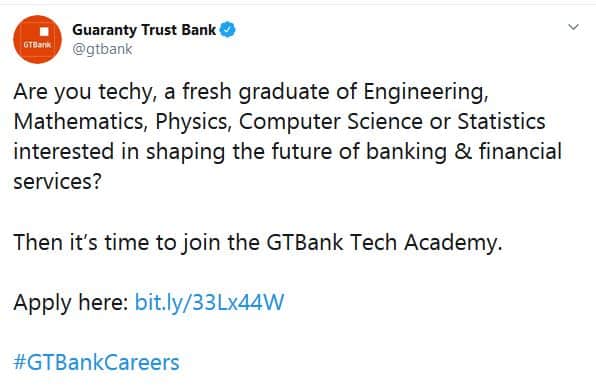 About GTBank
At Guaranty Trust Bank plc., our mission is to build an enduring Proudly African and Truly International Institution that plays a fundamental role as a Platform for Enriching Lives by building strong, value adding relationships with our customers, stakeholders and the communities in which we operate.
Technology and innovation are at the core of what we do, and we have specially designed the Tech Academy to help you code your way to success.
Graduates of the academy will get to work in the Information Technology, Data Analytics, FINTECH, Information Security, and Emerging Technologies departments of the Bank.
Job Title: GTBank Tech Academy
Location: Lagos
Duration: 6 weeks
GTBank Tech Academy Requirements
Minimum of a bachelor's degree from a reputable university in Engineering, Mathematics, Physics, Computer Science or Statistics,
Minimum of 5 O 'Level credits (including English and Mathematics)
Completion of NYSC is mandatory
Guaranty Trust Bank Tech Academy Required Skills
Awesomeness
Techy
Innovative
How to Apply for GTB Tech Academy
Interested and suitably qualified candidates who meet the reqirements listed above should apply by clicking on the apply here link