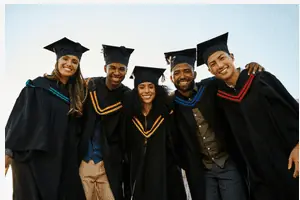 It is general knowledge that getting a full scholarship anywhere in the world is highly competitive and Canada isn't an exception. Most international students prefer Canada because it is s home to some of the world's top-ranked universities, which offer high-quality education and cutting-edge research opportunities. Also, Canada provides post-graduate work opportunities which allow students to gain valuable work experience and potentially become permanent residents.
How to Get Scholarships in Canada
The first thing you have to do is to research universities in Canada that offer scholarships in Canada. I will list some of the universities below. The next thing is to look for scholarships that match your academic profile, field of study, and country of origin.
So, after you have found scholarships that match your profile, then you apply to the universities that offer the scholarships. It is important that you make sure to check the admission requirements and deadlines of each university.
Once you have selected the universities, you want to apply to, submit your application for admission to each of them. Make sure to provide all the required documents and meet the admission requirements. After submitting your application for admission, you can start applying for scholarships.
Admission Requirements for International Students in Canadian Universities
International students need to submit academic credentials such as high school or college transcripts, showing completion of the academic level required for admission.
You must demonstrate English language proficiency by submitting scores for English language proficiency tests like IELTS or TOEFL.
Some programs require international students to submit standardized test scores like the SAT or ACT.
Some universities require you to submit letters of recommendation from teachers, professors, or employers.
International students are required to pay an application fee to cover the costs of processing their application.
Aside from the admission requirements, you must be eligible for full scholarship in Canadian Universities, the general eligibility criteria is listed below:
Most full scholarships in Canada require that applicants have excellent academic performance. This may be demonstrated through high grades, test scores, and academic awards.
You must first be admitted to a Canadian university and ensure you meet the admission requirements and deadlines of the universities you are applying to.
Some scholarships are specific to certain fields of study, such as STEM, social sciences, or humanities. Make sure to check the eligibility criteria of each scholarship to see if your field of study is covered.
You may be required to submit a personal statement, which is an essay that explains your academic goals, career aspirations, and personal background. Make sure to write a compelling personal statement that demonstrates your passion for your field of study and your potential to make a positive impact.
You must meet the required score in standardized tests like TOEFL or IELTS to demonstrate your proficiency in English
Read: List of undergraduate scholarships in Nigeria
Universities in Canada that Offers Full Scholarships for International Students
Below are some of the universities in Canada that offer full scholarships for international students:
University of Toronto: It offers a range of scholarships and awards for international students, including the Lester B. Pearson International Scholarship and the University of Toronto International Scholar Award.
University of Alberta: It offers the International Student Scholarship, which covers full tuition for up to four years of undergraduate study.
University of Waterloo: It offers the International Master's Award of Excellence, which provides full funding for international students pursuing a master's degree.
McGill University: It offers McGill University Scholarships and Awards, which include a variety of merit-based scholarships for international students.
University of Ottawa: It offers the President's Scholarship for International Students, which covers tuition fees for up to four years of undergraduate work
University of British Columbia: UBC offers a variety of scholarships for international students, including the International Major Entrance Scholarship, the Outstanding International Student Award, and the Donald A. Wehrung International Student Award.
York University: It offers the Global Leader of Tomorrow Scholarships, which cover full tuition and living expenses for international students pursuing an undergraduate degree.