JAMB
Information from JAMB to all candidates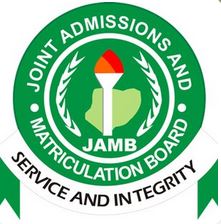 The information below was released by JAMB through their twitter handle to both UTME and DE candidates. This was done to allay the fear of the public about the cut off mark which was released (120). And to give assurance to those that score higher marks.
The information reads:
Candidates with higher marks will be considered first. Institutions will still admit using established criteria of merit and others. Institutions will still admit using established criteria of merit and others.
The 120 cut off mark doesn't mean an automatic ticket for admission.
Direct Entry Registration closes on Friday, 15th September 2017.
JAMB introduces Central Admissions Processing System (CAPS) to streamline admission exercise & give candidates the right to track admission"
Candidates are advised not to apply for change of institution and change of course to institutions that have already done their Post UTME.
Candidates with correction of data and Regularization issues should confirm that their indemnity form is sent to the nearest JAMB office.
Candidates are advised to kindly disregard reports making round on the Honorable Minister stating the refund of payment for PUTME.
However the Minister would certainly direct the refund for candidates who have paid more than the directed N2000.
We strongly advise against changing to any Institution whose portal is closed for PUTME.
FRCN network news on the ban of PUTME was in error. Candidates are urged to disregard the news.
For UTME students, all you have to do is to prepare for your post-UTME test or screening. Visit your school portal for information regarding post-UTME screening.