Prayers
Important Prayer Points To Pray In The Midnight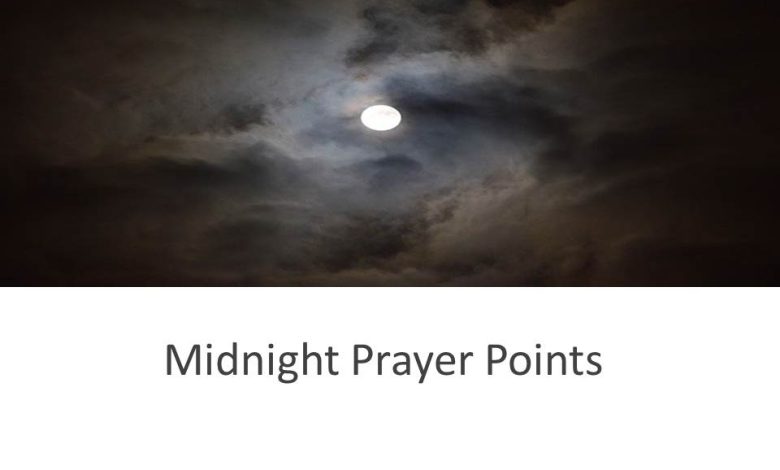 There's a prayer time for every hour of the day, but while most people pray early in the morning or at night, there is a specific time when you can pray that will break constraints and deliverance from evil. Throughout your day, you'll come across situations that require urgent attention. Midnight is the best time to pray to God to deal with these issues. There are heavy forces of entrapment from the enemy that strong midnight prayers can shatter.
The devil is aware of the fact that the early hours in the morning are one of the best times to engage people in prayer. There are so many people living in satanic bondage today — and the devil knows that if he can stop you from getting up in the night to pray, God will not be able to change your situation.
Many individuals, families, and groups of people unknowingly struggle with satanic yokes. This article is to enlighten us, encourage us, and share more light on why we need to rise and pray. There's a reason why the first success principle on the list of sixteen is " Get up early." It's because those who seize control of their lives and the power of creation by getting up early are those that live their lives to the fullest. When you wake up at midnight, you're taking control of your life, refocusing your priorities, and planning for how you're going to achieve your goals. Many people live today in satanic and demonic bondage simply because of laziness in their prayer lives.
In the Gospel of Luke, we find that Jesus chose to pray late into the night before choosing his 12 Apostles. While praying, He asked God that the Holy Spirit guide them and chose men who would not turn back from the faith. This is a good example for Christians to follow — prayer is powerful and should be a part of everyday life.
Importance Of Midnight Prayers
God has always answered prayers at midnight, but sometimes we rush through our prayers before the midnight hour. Paul and Silas prayed all night, waiting for God to work. Their prayers were answered around midnight when an earthquake released them from prison cells. Before that, David waited for God to answer his prayer at midnight. When he wrote Psalm 119:62, he said, "At midnight I rise to praise you/because of your righteous rules.
Midnight prayer is a spiritual highway where deep spiritual transactions take place.
Midnight prayers have the higher potency for answers to prayer.
Midnight prayers keep you alert, never ready for the evils of the night.
Midnight prayers ensure your deliverance from afflictions and stagnation.   
Midnight prayers enrich your spiritual life and fortify you against demonic enchantments.
Midnight prayers strengthen and improve the needed fellowship with God and reduce the usual distractions associated with the day.
Midnight prayers prepare you ahead for the battle ahead in the spiritual world.
Midnight prayers offer the best situations to promote and maximize the blessings in the waiting season.
With this, you can see that it is important to engage in a spiritual battle at night by praying fervently. And if you are having difficulties starting your prayer life at night, we have compiled a list of prayers.
Prayers to Receive the Power of Midnight Prayers
I will commit myself to pray at midnight tonight and every night after that. So, lord, I ask you to empower me with your grace to wake up and pray at midnight from this day forward in the Mighty Name of Jesus Christ!
O God, shock my enemies tonight, in the name of Jesus.
Every wicked power using the period of the night to attack, backfire, in Jesus' name.
Every environmental witch against my prayers shall receive the fire of God, in Jesus' name.
O Lord, let my midnight prayers carry fire and anger against all enemies of my progress in the name of Jesus.
Once you have received the power to pray fervently at night, you don't have ideas on what to pray about or how to start your prayer. We have come up with powerful prayer points for you and your family.
Read: Prayers for hope during difficult times
Midnight Prayer Points
Holy Father, we praise Your Holy Name. We declare that You are excellent in all the earth. We praise You, and we will praise You forever in Jesus' Name.
Holy Father, in the name of Jesus, please hear my prayers tonight. I ask that you would let my prayer reach unto You, just as it is in Jesus' name. Amen.
In the name of Jesus, I invite the sweet Spirit of God to move around me and let Your power take control of my weaknesses in Jesus' name.
Father in the Name of Jesus breathes every iron bar of iron, stopping me from accessing my Divine rest in Jesus' mighty Name.
In the Name of Jesus, I break every evil covenant I have entered, whether knowingly or unknowingly, in Jesus' Name.
I denounce any bonds I might have created with the Kingdom of Darkness by rejecting its power in Jesus' Name.
In the name of Jesus, let any negotiations or agreements that I have with the agents of darkness be dismantled.
By the supernatural Name of Jesus, I uproot everything my Father in heaven has not planted in my life and destiny in Jesus' Name.
Father, anywhere I have given room for the enemy to step into my life, please come and be my cover in Jesus' Name.
In the Name of Jesus, I charge my body with the Holy Spirit. Therefore every foreign power in my body, soul, and spirit departs out of my life tonight in the name of Jesus.
Jesus, thank you for being my Lord and savior. I believe that you have the power to reclaim everything from selfish people who have stolen from me. I ask you to take back my marriage, my job, all of my business opportunities, and my children through your power.
I release my spirit, soul, and body from every hold of the enemy in the mighty Name of Jesus.
In the Name of Jesus, I pursue, I overtake, and I recover all the devil has stolen from me in Jesus's Name.
I decree that it's my season of announcement and celebration in the Name of Jesus.
I decree that it's my season of divine promotion and divine miracle in the Name of Jesus.
There is a power in Jesus' name. I will pray accordingly and hope to find the face of God in my life and destiny. I also pray and receive God's hands and strength in all my endeavors.
I am proclaiming the name of Jesus. I am making a declaration for my life, my family, and my destiny. I am receiving God's mighty hands in all my endeavors through Jesus.
I will not be moved; I will not be shaken; I will not be removed from my purpose because I am a man of God! In the Name of Jesus.
In the name of Jesus, I shall not perish, and I shall not lose any member of my family. I declare that my family and I shall live to declare the goodness of God in Jesus' Name.
Now, you can tackle the plans of the enemy in your life and the life of your family members with these powerful midnight prayer points. You don't have to worry about the devil's evil schemes but to pray at night unceasingly to conquer the spiritual warfare that happens at night.