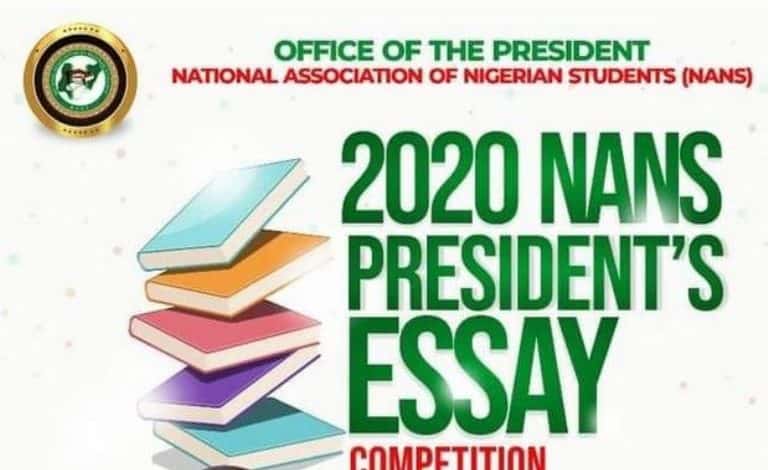 The National Association of Nigerian Students (NANS) under the leadership of Comrade Danelson Bamidele Akpan, GCNS have announced the 2020 NANS President's Essay Competition for Secondary School Students. The competition is directly organized by the office of NANS Global President.
ESSAY TOPIC: Education Amidst COVID-19: Possibilities and the Way Forward.
About NANS
The National Association of Nigerian Students (NANS) is the umbrella body of all students' organizations in Nigeria. It is the largest students' movement in Africa. From inception, NANS has stood and fought for justice, good governance and the rule of law. We are committed to struggle for the greater interest of Nigerian students both at home and abroad.
During the 1970s, the National Union of Nigerian Students (NUNS) was founded. 10 years after in the year 1980, The National Association of Nigerian Students (NANS) was founded to replace The National UNION of Nigerian Students (NUNS).
NANS Essay Competition Eligibility
In order to be eligible to apply for the essay, applicants must:
Be a Students of any secondary school in Nigeria
Applicant must not be above 18 years
Competition Prizes
Star Prize: 250,000 Naira (the winner would become NANS president for 24hrs)
First Runner Up: 100,000 Naira
Second Runner Up: 50,000 Naira
How to Apply for NANS Essay Competition
Essay should be sent to Facebook – NANS NEW DAWN or DANIELSON BAMIDELE AKPAN or EDIDIONG ITA
OR Email: danielsonandrew200@gmail.com OR nanspresident2018@gmail.com
For any enquiry, contact; 09077064936, 07080388100
NB: Selected essay will be invited for screening on Thursday 27th August 2020 and winner would be announced within 24hrs after the screening.
Read: 16 undergraduate scholarships in Nigeria