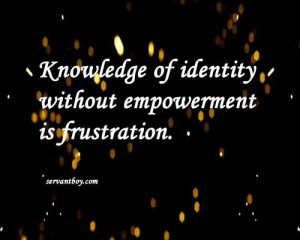 Holding the mystery of the faith in a pure conscience. 1tim 3:9
Faith without truth will lead to frustration. Faith is not a method it is an access to an existing creation of God that your spirit is aware of. Before any reality of faith your spirit must have it in possession. No one builds a house without counting the cost because any attempt to build beyond your cost will lead to shame and frustration.
All the ways of a man are clean in his own eyes; but the LORD weighteth the spirits. Prov 16:2
No one builds a three storey building on a storey foundation it will collapse. Faith takes it load on your spirit man if the load weighs more than the capacity of your spirit man you will crash.
If thou faint in the day of adversity thy strength is small. Prov 24:10
It's important we know what kind of strength the bible is talking about. Is it physical strength or what?
A wise man is strong; yea, a man of knowledge increaseth strength. Prov 24:5
So it takes a certain spiritual knowledge to access the unseen world. There is nothing a man ever desire that does not exist for God had created everything and he is resting now. Therefore whatever your spirit man cannot access in the spirit realm your faith cannot deliver it in physical realm. Your spirit man must have the capacity of delivering it before you can ever see it. It takes your spirit man to be enjoying health to command physical health in manifestation. So your spirit man must be violent in the spirit conquering powers of darkness in the spirit realm to have victory here on earth. You can't be under torment of spiritual forces and experience victory in their terrain. Only the spiritual forces your spirit man can conquer can you take their spoil as victory.
What is violent faith?
Violent faith is an immediate response to immediate challenges for supernatural result. For example
Jesus walking on the road and he met two demon-possessed men and liberated them. The bible never told us Jesus knew demons are on the way.
There was no food in the wilderness, he prayed and gave thanks. He feed 5000.
There was no sheep to carry him, normally he should have wait rather he choose to walk on water.
John D Lake with compassion was taking care of inflicted buffeted men with contagious disease yet he moved and his body was supernaturally transformed into heavenly body. He wasn't contaminated.
This experience is open to every believer in Christ. Greater works shall ye do than I and for me have not done it. I didn't become a Christian to be watching other manifest and be clapping for them. What you don't thirst for you cannot have.
How do you get violent faith?
Faith is the confident understanding of what God's power can do. And since faith is a mystery that can be hold i.e can be felt. So faith is not a guess work it's a reality you are sure of because you are holding it. This kind of faith is not confessional it is professional because you have it. Have told you I will speak on confessional faith later. There are situations that only a prophesying faith can resolve not confessional there are situations that only speaking faith will turn it around etc
Truth: Above all taking the shield of faith wherewith ye shall be able to quench all the fiery darts of the wicked. Eph 6:16
For his truth shall be thy shield and buckler. Psa 91:4
Only the truth your spirit man contains will shield you in the days of confrontation. Truth has a load if your spirit cannot take it it will spill it out. You cannot continue with milk teaching and expecting your shield to be strong in defence. Every giant spirit is a heavy consumer of truth whether comfortable or hard to understand like Paul's letters. Revelation is not yet a truth until it is pleasant to your spirit because truth is the power of liberation, the shield of faith. What folks need is truth without truth you cannot grow. All this contextual whatever grammar does not make any meaning to the devil. Listen brethren your identity does not scared the devil the truth you carry does.
God never told david he is going to meet Goliath on his way but thank God that David embrace the trainings in the hidden time of his destiny. David's new identity wasn't what brought victory against Goliath it was the testimonies of his hidden victory that empowered him to challenge. Imagine David confessing his new identity to Goliath eg Am the new anointed king of Israel go away, will Goliath go? This is what church folks are doing today. Look at what God said to Gideon:
…Where be all his miracles which our fathers told us of, saying, Did not the Lord bring us from Egypt?
When God heard that testimony, look at the next thing:
And the LORD looked upon him and said Go in this thy might and thou shalt save Israel. Judges 6:13-14
Note: Knowledge of identity without empowerment is frustration. It is like a lion without his strength. A lot of Nigerians knows their right but we cannot fight the powers terrorizing our country politically because of lack of power. Knowing your identity is therefore not enough. Wakeup we need empowerment for victory. We need power. Speaking in tongues..
Knowledge open your eye to your identity truth empowers to activate your identity. Everywhere you see people are crying in the bible God will always say weep not. Today folks get angry for hearing truth and when they are confronted by Babylon they bow to golden image.
When you hear the truth the truth will set you free.
Freedom is not a scientific evolution or educational impacted knowledge, freedom is a state of being. Truth is an empowered knowledge that positions you where you ought to be or get you angry enough to enforce a change of state. Knowledge without power rendered your spirit man impotent only truth empowers your spirit for supernatural dominion.
So the spirit only feeds on truth (power) because it's the spirit that empowers knowledge. A powerless knowledge is frustration to your Christian identity.
And my speech and my preaching was not with enticing words of man's wisdom, but in demonstration of the spirit and of power. 1cor 2:4
That your faith should not stand in the wisdom of men but in the power of God. 1cor 4-5
Except the church goes back to the first doctrine of how faith was built in the early church and am telling you the devil has just begun to frustrate a lot of folks. Faith based on knowledge alone will be frustrated, real bible faith operate on power (truth).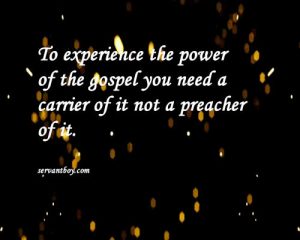 Power: Faith can only be release by power. The spirit of a man is the only resident of God's power. That's why faith only exist in the spirit (heart) not our head. Faith is not grammar it is demonstration of the spirit. The spirit himself has access to spiritual knowledge which is like a database for knowing what belongs to him. Am talking about contacting the power of God. The only thing that God anoint is his word. God does not anoint empty vessels. Therefore the amount of truth you are carrying will determine the anoint you will experience.
In the beginning was the word, and the word was with God and the word was God John 1:1
But unto them which are called but Jesus and Greek, Christ the power of God, and the wisdom of God. 1cor 1:24
Christ is power of God and Christ is the word of God the word of God is the power of God.
It takes a charged preacher to charge his members. A battery cannot power a radio beyond his capacity and one of the signs of a new battery with power is, it gives volume/voice to the radio.
Iron sharpeneth iron; so a man sharpeneth the countenance of his friend. Prov 27:17
It takes a spirit man that possesses power to transfer power. To experience the power of the gospel you need a carrier of it not a preacher of it.
What reduces the Power
The word of God (Power) is Yea and amen, also it has been tried in the furnace seven times by God. You see the quality of the vessel is highly important to the manifestation of the word. Before the word of God gets out of some vessel it has gotten corrupted (ineffective). That's why the same scriptures in the mouth of one preacher will make you jump and shout and return back to your problems yet the same scriptures in another preacher's mouth will carry so much power that will prick the heart of men and liberation will take place. The vessel transporting the word of God has requirement to fulfill before experiencing the power therein. The word of God comes via the spirit and where else can it be made ineffective if not the spirit?. The mind is only renew to accommodate what the word of God wants to do not that the mind has the capacity to hold the word of God. Look at this:
But when they shall lead you, and deliver you up take no thought beforehand what ye shall speak neither do ye premeditate: but whatsoever shall be given you in that hour, that speak ye: for it is not ye that speak but the holy ghost. Mark13:11
But the comforter, which is the holy Ghost, whom the father will send in my name he shall teach you all things and bring all things to your remembrance  whatsoever I have said unto you. John14:26
Brethren the word of God stays actually in the spirit infact the renewing of the mind is to catch up with the database of the word of God in our spirit. That's while it takes the holy ghost to pick those words from the spirit and express it immediately. Our mind needs renewal for knowing the words and mysteries our spirit has received from Jesus for expression. That's why sometimes you know a mystery but you cannot explain it the way you are seeing it in your spirit man, I don't if you are getting me? You need your mind for expressing the mysteries in your spirit not that the word of God stays in our minds. So there  is nothing like it is because your mind isn't renew that is why you aren't experiencing God's power no no no you don't need to know how to express the word of God by mind to express the power of God. Wonderful preaching does not equalize power flow. Power belongs to truth and truth is a spiritual entity.
Finally brethren, be strong in the Lord and in the power of his might by putting on the armor of God that ye maybe able to stand against the viles of the devil. For we wrestle not against flesh and blood.
Facebook.com/servantboy1, twitter.com/servantboi
God bless