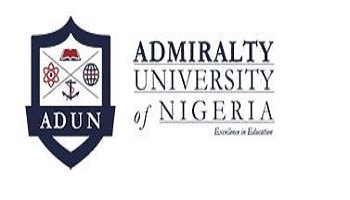 The Admiralty University of Nigeria (ADUN) was established as a Public-Private-Partnership (PPP) through the joint efforts of Nigerian Navy Holdings and Hellenic Education Nigeria.
THE Nigerian Navy said Admiralty University of Nigeria, ADUN, was set up to reduce the high rate of foreign trainings for its personnel and also of its sister services.
The information on the University website (https://adun.edu.ng/) suggests that the academic activity has commenced in the school.
Admiralty University Courses
B.Sc. Economics
B.A. English
B.A. History and International Studies
B.Sc. International Relations
Tourism Studies
B.Sc. Accounting
B.Sc. Business Administration
B.Sc. Biology
B.Sc. Chemistry
B.Sc. Forensic Science
B.Sc. Industrial Mathematics
B.Sc. Physics
B.Sc. Computer Science
B.Sc. Software Engineering
B.Sc. Cyber Security
Admiralty University Admission Requirements
All applicants for admission into the University must have attained 16 years of age.
The admission requirements into the undergraduate programs of the Admiralty University of Nigeria are as follows:
All admissions into the University must be through the Joint Admissions and Matriculation Board (JAMB);
For admission to 100 Level courses (via UTME), candidates must: obtain five (5) credits at SSCE (or equivalent) in relevant subjects, at not more than two (2) sittings, including credit passes in English and Mathematics; and attain acceptable points in UTME in relevant subjects;
For admission by Direct Entry (200 Level), candidates shall, in addition to having five (5) SSCE credits, obtain at least two (2) A' level (or its equivalent) passes in relevant subjects, or possess ND with credit passes, or possess a good first degree in another field as the case may be;
Those who meet the preliminary requirements for admission will be expected to undergo a screening (including/or) interview exercise to be conducted by the University; and
The University will not accept transfer students until after at least the first two years of its existence.
Admiralty University Fees
The tuition Fees and Other Costs  as well as those for Accommodation and Feeding (meals) options and are as follows:
1ST SEMESTER
2ND SEMESTER
ANNUAL TOTAL
TUITION FEES
280,000
280,000
OTHER CHARGES
Medical Insurance
30,000
–
–
Matriculation Gown (Rental)
10,000
–
–
Student Activities
20,000
–
–
E-Books & Technology
10,000
–
–
Hostel Maintenance
10,000
–
–
Caution
10,000
–
–
Examination
10,000
–
–
TOTAL OTHER CHARGES
100,000
–
–
TOTAL TUITION FEES/OTHER CHARGES
380,000
280,000
660,000
ACCOMMODATION (must select 1 option)
OPTION A
4 Beds in en-suite room
50,000
50,000
100,000
OPTION B
2 Beds in a en-suite Room
90,000
90,000
180,000
MEALS (must select 1 option)
OPTION A
3 Meals Daily
270,000
270,000
540,000
OPTION B
2 Meals Daily
220,000
220,000
440,000
GRAND TOTAL
OPTION A
650,000
550,000
1,200,000
OPTION B
740,000
640,000
1,380,000
Substantial Scholarships on the Tuition Fees are available to qualifying students
A payment plan is available with a minimum payment of 50% and the balance split over 3 equal monthly payments. Full cost must be paid by the end of each semester a payment plan is made.
The total does not include a Laboratory Fee of 30,000 that must be paid by each student in the Science Degrees
All payments must be made to the following designated ADUN Fees Collection Account.
Recommended: List of NDA Courses and Requirements