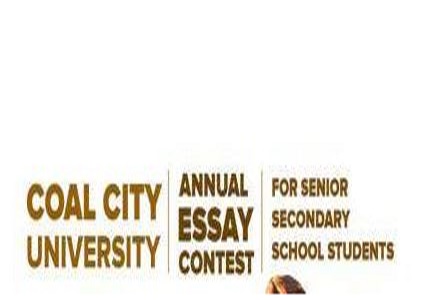 Coal City University essay competition for secondary school students for 2022/2023 is out. This annual essay contest is organized in an effort to increase awareness of current global issues among the young population. It also aims to stimulate initiative and creative thinking abilities of young minds towards sustainable development. In addition, the essay contest seeks to get society to learn from the young minds and to recognize that it is our collective responsibility to address these issues.
The deadline for the submission of entries July 15, 2022 (11.59 pm WAT)
Theme of the Essay Competition: Climate Change
The climate impacts the health and well-being of people, including their mental balance, psychological comfort, and mood. Climate change threatens the essential ingredients of health such as clean air, safe drinking water, nutritious food supply, and safe shelter. It also has the potential to undermine decades of progress in global health (WHO). This, saving the climate is an urgent task in which everyone has a role to play.
Your essay should answer the following questions:
"What are you doing to help save the Climate"?
"What can you do to help save the climate"?
Are you doing anything consciously to make a difference?
Coal City Essay Competition Guidelines
Our judges value original insights, as well as clear and correct writing. Essays should be directed to a well-informed general audience, not a strictly academic one, and should be based primarily on the students' own observations.
The essay may be submitted by anyone in a Senior Secondary School (SS1-SS3).
The essay should be between 700-1000 words and must be typed, with the title and name of the author written at the top of the page. (Your name and title of the essay are not included in the word count limit).
There are no particular rules regarding formatting (font style, size, line space, etc.).
Entries are to be submitted online. To send your essay online, you must go to the online registration page @ www.ccu.edu.ng. Only one entry per person will be accepted.
Essay must be original, as plagiarised submissions will be rejected.
Co-authored essays will not be accepted.
Copyright of the essays entered will be assigned to the organizer.
Coal City University Essay Competition Prizes
The following awards would be given to shortlisted students as follows:
1st Prize: Certificate, prize of 500,000 naira Cash or Full tuition fee scholarship in Coal City University for any course of your choice.
2nd Prize: Certificate, prize of 250,000 naira
3rd Prize: Certificate, prize of 150,000 naira
All Shortlisted Students : Certificates and Consolation prizes.
Additional Awards (Best School Award, School Incentive Award) will be given if applicable.
How to Submit Entries
All interested applicant can should submit their entries via this link https://ccu.edu.ng/index.php/2022-essay-competition/
Additional Information:
All shortlisted winners will be invited to Coal City University, Enugu for an award ceremony.
All shortlisted winners will be announced on July 22, 2022 via the website ccu.edu.ng. They will also receive an SMS.
We are unable to answer individual inquiries concerning contest results.
We will send updates about the 2022 essay competition, and news about shortlisted candidates and the awards ceremony. We will also share with you reading recommendations, from time to time. We would call all participants to confirm their basic information and progress with the essay.
Read: List of essay competition in nigeria