Edo University Iyamho, located in Edo North, Etsako West LGA,  Edo State. EUI is  one of the world's leading teaching and research universities. Since its opening in 2016,  EUI has been dedicated to finding solutions to big challenges and to preparing students for leadership in a complex world.
List of Courses Offered in Edo State University
Below are the list of courses offered at Edo University Iyamho.
Faculty of Arts, Management and Social Sciences
Accounting
Business Administration
Economics
English
History and International Studies
Mass Communication
Political Science and Public Administration
Faculty of Engineering
Chemical Engineering
Civil Engineering
Computer Engineering
Electrical/Electronic Engineering
Mechanical Engineering
Faculty of Law
Faculty of Science
Biochemistry
Chemistry
Computer Science
Mathematics
Microbiology
School of Basic Medical Science
Medical Laboratory Science
Nursing
Medical Lab Science
School of Medicine
Edo University Tuition Fees For 2018/2019 Academic Session – New students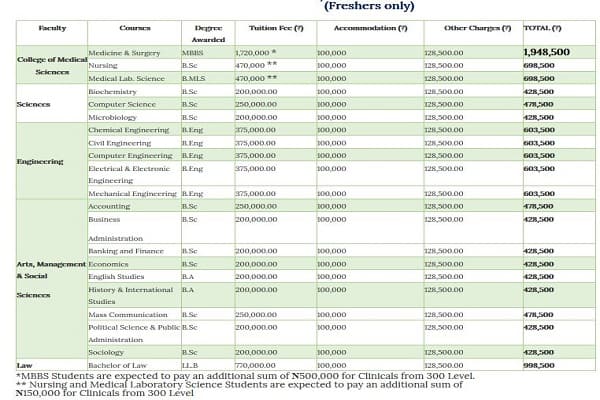 Medicine – N1,948,500.00
Basic Medical Science – N698,500
Engineering – N603,500.00
Sciences – N428,500
Art Management and Social Sciences – N428,500 except Mass Communication and Accounting (N478,500)
Law – N998,500.00
Accounting, Mass Comm. And Computer Science – N478,500.00
*MBBS Students are expected to pay an additional sum of N500,000 for Clinicals from 300 Level.
** Nursing and Medical Laboratory Science Students are expected to pay an additional sum of N150,000 for Clinical from 300 Level
Acceptance fee of N25,000 must be paid by New Students before they can be allowed to commence registration for academic activities.
Bank Details (FOR ACCEPTANCE FEE ONLY)
Account Name:       Edo University School Fees Account
Account Number:   0706626708
Bank:                      Access Bank plc
PAYMENT OF SCHOOL FEES
A minimum first installment of 60% for ALL Courses must be paid before registration while the balance must be paid in the first week of second semester.
Edo University Tuition Fees For 2017/2018 Academic Session – Returning students
Medicine – N1,503,500.00
Basic Medical Science and Engineering – N603,500.00
Law – N998,500.00
Pharmacy – N828,500.00
Accounting, Mass Comm. And Computer Science – N478,500.00
Other Programmes – N423,500.00
Click here for the breakdown of Edo University tuition fees edouniversity.edu.ng