JAMB
Provision of O level results by tertiary institutions to be enforced by JAMB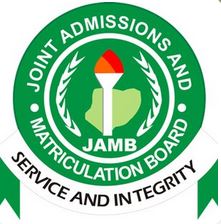 The Joint Admissions and Matriculation Board, JAMB, through its registrar has stated that it would demand for the records of Ordinary and Advanced Level results of candidates recommended by tertiary institutions before offering them admission.
This was said by the JAMB Registrar, Ishaq Oloyede during the affair on admissions exercise/processes for Innovative Enterprise Institutions in Abuja on Tuesday.
He said that tertiary institutions must ensure that they maintain the standard set by the board from this year's admission.
The registrar said any institution recommending a person for admission must provide the board with the qualification the person possesses and not just telling them he or she scored 300 in UTME.
He added that any admission 'done under the table' would not be regularized by the board. While speaking, he frowned at illegal admission: illegal admission in terms of people not even taking the unified tertiary matriculation examination, UTME at all not to talk of scoring zero. Illegal admission by even admitting people who do not have the requisite ordinary level results because before now JAMB does not have the record of their O level (results)."