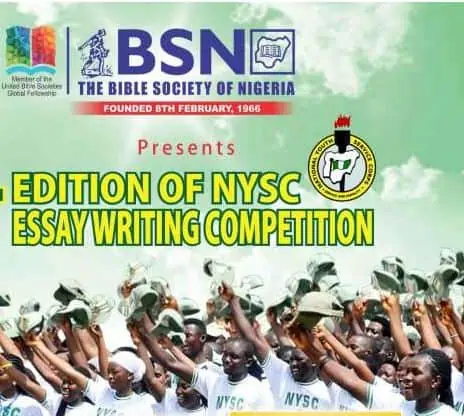 The Bible Society of Nigeria essay competition is currently on. The society hereby announces the 11th edition of its annual Essay Writing Competition. This is an opportunity for interested graduates serving their fatherland to analyse and proffer solutions to the socio-economic and political challenges in Nigeria using both Biblical and intellectual approaches
The essay must be original, empirical, and meet the standard for publication in local and international journals.
Topic: Re-engineering the Nigerian System for Sustainable Development.
Commencement Date: Wednesday, 1st June 2022
Closing Date: Thursday, 30th June 2022
National Symposium Date: Thursday, 18th August 2022
Bible Society of Nigeria (BSN) NYSC Essay Writing Competition Prizes and Awards
The Prizes and Awards for the six finalists include:
1st 2nd 3rd Position: Laptop, Management / motivational books & Bible
4th 5th 6th Position: Phone, management / motivational books & Bible.
Bible Society of Nigeria Essay Writing Competition Criteria
Any interested participant must be a Corps member who is currently serving his / her fatherland in any State of Nigeria
He / She must still be in service till September 2022.
How to Participate in the BSN NYSC Essay Writing Competition
Interested applicants should forward his/her application to: nyscessay@biblesociety-nigeria.org
Or
Spiral-bound hard copy to:
The Bible Society of Nigeria,
Adebowale House, 150 Ikorodu Road,
Onipanu, Lagos State.
Application Instruction
All entries should be typed using 1.5-line spacing on A4 paper with a minimum of 3,000 words and a maximum of 4,000. The font type should be Times New Roman and font size "12"
The essay should have a cover page which contains the full name, essay title, the Place of Primary Assignment, current phone number and functional email address
A scanned / photocopy of the call-up letter and ID card must be submitted with the essay
All entries must be received on or before Thursday, 30th June 2022.
For more information, kindly visit the Official Link
For Further Enquiry, contact: Grace Benjamin (08159094138 or grace@biblesociety-nigeria.org), Sylvia Ogolowa (08159094112 or sylvia@biblesociety-nigeria.org).
Read: List of essay competition in Nigeria