Education
Causes And Effects Of Insecurity In Nigeria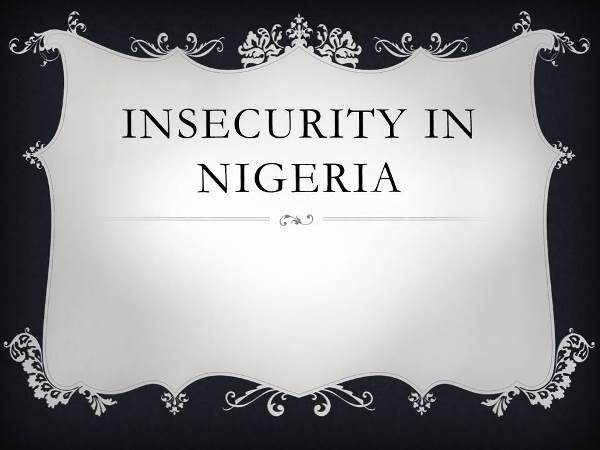 Currently, some of Nigeria's major problems are insecurity, poor leadership, and lack of strong institutions. In this article, I will be discussing the causes and effects of insecurity in Nigeria. After attaining independence, the country, despite its human and material endowment, lacks all critical infrastructures and has been governed on an ad-hoc basis without the benefit of planning. The lack of infrastructure has resulted in the collapse of initiatives in both the formal and informal sectors of the economy.
What is Insecurity?
Insecurity means lack of safety or the existence of danger; hazard; uncertainty; lack of trust; doubtful; inadequately guarded or protected; lack of stability; disturbed; lack of protection and unsafe. It is also the state of being subject to terror, threat, risk, molestation, bullying, harassment, etc. Insecurity, for example, can be conceived as a threat to the state that often accounted for the arms and nuclear weapons race to protect the state. According to the Encarta dictionary (2009), insecurity is the state of being unsafe or insecure or a state of mind characterized by self-doubt and vulnerability.
Causes of Insecurity In Nigeria
Boko Haram Insurgency
The Boko Haram humanitarian crisis has led to over 37,500 deaths with 2.4 million internally displaced citizens with severe impacts in Borno, Adamawa, Yobe, and Gombe, predominantly leading to physical and food insecurity. This has made business owners and managers relocate their businesses elsewhere. There is also evidence of some businessmen and manufacturing companies having to relocate, particularly from the North in recent times to other peaceful parts of the country.
Unemployment
Unemployment is a state of being available to work, but you aren't working, even part-time or temporary. And the common types we have in Nigeria include underemployment, frictional unemployment, and structural unemployment. Out of the three types I have mentioned, underemployment is the most common in Nigeria. It is a situation in which people take up any job to make ends meet, but they are not working to their full capacity or skill level, i.e., working to survive. And an idle hand is a devil's workshop. Because of this, many become frustrated to keep mind and body together and engage in violent and criminal acts such as lucrative kidnapping, militancy, and armed robbery.
Poverty
Poverty is the state of one who lacks a usual or socially acceptable amount of money or material possessions. In a report released by NBS, 40 percent of the total population, or almost 83 million people, live below the country's poverty line of 137,430 naira ($381.75) per year. This means the country has close to half of its population is poor. And an adage said a hungry man is an angry man. So this set of people won't mind engaging in criminal acts because they believe they have nothing to lose.
Poor Leadership
Leadership is the ability to influence the behavior of people. It is also defined as the capacity to influence a group towards realizing a goal. Bad leaders hurt the country. Their behaviors often include intimidation, bullying, misrepresenting facts, retaliation, blaming others, dishonesty, deceit, and anger. Poor leadership remains Nigeria's fundamental cause of insecurity from the past till now. It is generally acceptable that government has the primary function of providing essential services such as water, electricity, a good road network, quality education, and general infrastructure. Ironically, these basic things are not there in Nigeria, and the people, in general, are frustrated and demoralized. Demoralization and anger logically provide a fertile ground for aggression and general insecurity. When governments repeatedly fail to deliver on their promises to the people, it leaves a wide communication gap between the government and the people. This creates insecurity.
Corruption
This has become a way of life in Nigeria, one which existing governments neither wish to nor can control. All subsequent regimes in the country military and civilian, have been permeated by corruption. And it has been aided and enhanced by oil revenues, this has created a deepening crisis of kleptocracy, shown in its most extreme form since 1984. It results in a combination of scandalous wealth among the ruling class with growing poverty, misery, and degradation among the mass of Nigerians. The economy and social institutions in the country has been driven into decay because the political life has become dominated by political cynicism and violence.
Porous border
The country's unstable frontiers, where human movements are essentially untracked, have led to Nigeria's level of insecurity. There is an unregulated inflow of Small Arms and Light Weapons into the country due to the porous borders, which has enabled militancy and crime in Nigeria. It has also been reported that Nigeria hosts over 70% of about 8million illegal weapons that have been used to create a security crisis.
Marginalization And Inequality
In Nigeria, there are economic, gender, and regional inequalities. For instance, regional inequalities translate into higher poverty rates in some states in the country. Poverty in Nigeria is extremely high because it has been growing in an expanding economy where the benefits have been reaped by a minority of people and have bypassed the majority of the population.
Effects of Insecurity in Nigeria
On the impact of insecurity on the economy, the productive aspect of most manufacturing businesses depends mainly on the availability and regular supply of raw materials for production. Insecurity has cut off the supply of such raw materials hence, jeopardizing production activities. Besides this, insecurity affects the marketing of the finished product as there is a continuous exodus from areas of insecurity. There is also an increase in security spending as most business organizations operating in Nigeria spend a lot on maintaining private security outfits.
Security entails the presence of peace, safety, happiness, and the protection of human and physical resources. All threats to human security also challenge health and consequently are detrimental to the individual's physical, psychological, and overall well-being. Thus, insecurity leads to illnesses, a low life expectancy rate, low quality of life, and even death.