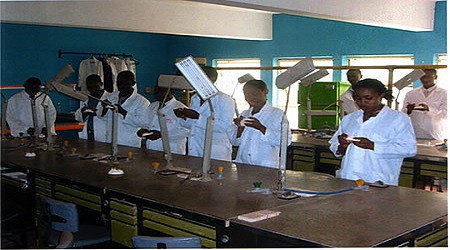 Federal School of Dental Technology and Therapy Enugu offers programmes in:
Dental Therapy
Dental Technology
Social Works
Public Health
Prosthetics and Orthotics
Biomedical Engineering Technology
Dental Nursing
The courses above are the only course offered in Federal School of Dental Technology and Therapy Enugu at the National Diploma and Higher National Diploma levels.
Graduates are expected to fulfill a mandatory one year internship before being mobilized for the National Youth Service Corps (NYSC).
FEDCODTTEN Graduates can practice as professional Dental Technologists or Dental Therapists after due registration and licensure by the Dental Technologists or Dental Therapists Boards of Nigeria.
Read: FEDCODTTEN Post UTME
Admission Requirements
(1) Admission into Federal School of Dental Technology and Therapy is through Joint Admissions and Matriculation Board (JAMB, MPCE).
(2) Prospective Students must have obtained Five Credits Pass at O/Level GCE/SSCE, NECO or its equivalent.
(3) For Dental Technology: the entry qualification is Mathematics, English Language, Physics, Chemistry and Biology.
(4) For Dental Therapy: the entry qualification is Mathematics, English Language and any three of Physics, Chemistry, Biology or Health Science.
(5) International students seeking admission into FEDCODTTEN should enquire about the availability of JAMB in their respective country of residence, or possess London GCE or Cambridge O' level.
ND 1- Courses
Morphology and Plysiology of living things
General and Plysical Chemistry
Mechanics and properties of matter
Introduction to statistics
Oral Hygiene
Primary health care
Pharmacology
Tooth morphology and tooth carving
Human anatomy and physiology
Communication in English I
Second semester
General laboratory techniques
Technical drawing
Introductory microbiology
Dental therapy instrumentation I
Oral physiology
Care and maintenance of dental equipment
General pathology I
Medical sociology
ND 2 – First Semester
General laboratory techniques (photography)
Oral Histology and Anatomy
Phantom Heads
Oral Health Education I
General Pathology II
Instrumentation II
Introduction to Nursing Care
Dental Radiography I
Communication in English
Second semester
Introductory Microbiology
Human Nutrition I
First Aid and Dental Emergencies
Anatomy of Head and Neck
Human Anatomy and Physiology II
Dental Materials
Clinical Practice
Nutrition and Dietetics Syllabus
Seminar / Project
Citizenship Education
Core work of a Dental Technologist
Dental Technologists fill orders from dentists for a variety of dental appliances. You'll work with sophisticated equipment and a broad range of materials to create tooth replacements that are realistic and aesthetically pleasing, as well as functional.
Dental Technologists using the dentists' detailed written directions and molds of the patient's teeth or oral soft tissues, makes the following items:
Full dentures for patients who are missing all of their teeth
Removable partial dentures or fixed bridges for those who are missing only one or a few teeth
Crowns, which cover the tooth and are designed to restore its original size and shape
Veneers, which are bonded to the tooth surface to improve the appearance of discolored, worn, chipped or misaligned teeth
Orthodontic appliances and splints used to help straighten and protect teeth
The core work of a Dental Therapist
The Dental Therapist has an important role in promoting dental health. They will treat adults and children. Dental Therapists are able to work in all sectors of dentistry including general dental practice.
A Dental therapist can carry out a range of procedures, including:
intra and extra oral assessment
scaling and polishing
applying materials to teeth such as fluoride and fissure sealants
taking dental radiographs
providing dental health education on a one to one basis or in a group situation
undertaking routine restorations in both deciduous and permanent teeth, on adults and children
extracting deciduous teeth under local infiltration analgesia
treating patients under conscious sedation provided the dentist remains in the surgery throughout the treatment.
The dental therapist may treat a wide range of high treatment needs patients, from those who:
are dentally anxious.
are medically compromised.
are physically disabled.
have high levels of untreated decay
Finally, for people asking for the Federal School of Dental Technology and Therapy Enugu school fees, you can always visit the school portal for updates or contact the school directly to get the correct amount of the school fees.
Recommended: How to build a strong CGPA