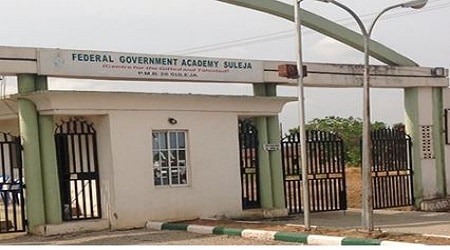 Applications are hereby invited from interested and qualified candidates for admission into JS 1 in the Federal Government Academy, Suleja for 2021/2022 Academic year.
FGA Suleja Online Registration Commenced  on Monday 17th May, 2021 and submission will close on 25th June, 2021.
Latest Update: FGA Suleja entrance exams result for 2021/2022 academic session is out. To check the admission list, check below.
The Federal Government Academy, Suleja is a National Centre for nurturing gifted and talented children. Students of the Academy are on Federal Government Scholarship which covers their tuition, boarding, feeding, uniforms and basic text/exercise books only.
The Gifted Education programme allows precocious students with outstanding intelligence capable of high academic performance, to fast –track the secondary education curriculum and complete programmes in less than the prescribed years with excellent result.
The entrance examination into the college will be conducted simultaneously in selected centres in all six Geopolitical Zones of the country on Saturday, 3rdJuly, 2021 by 7.00am. In filling the form candidates are to choose any one of the following examination centres listed on the form. The centres are FGA Suleja, FGGC Bwari, FGBC Apo, FGC Keffi, FGGC Bida, FGC Jos, FGGC Bauchi, Queen's College Lagos, FGC Ilorin, FGGC Zaria, FGC Maiduguri, FGGC Yola, FGC Sokoto, FGGC Akure, FGC Kano, FGGC Gusau, FGC Daura, FSTC Otukpo, FGC P/H, FGGC Benin, FSTC Uyo, FGGC Calabar, FGGC Umuahia, FGGC Onitsha.
List of successful candidates will be published on the school notice boards and the college websites on a date to be announced.
Note: Candidates should go to the different examination halls with a pen, pencil, eraser, ruler and crayon.
Admission into the college is strictly on merit and eligibility.
Eligibility Criteria
Interested candidates must not be more than 11 years of age by December, 2021
Each candidate must have completed primary six by the end of 2020 Academic year
Every candidate must produce documents in support of 1 and 2
How to apply for FGA Suleja Admission Of Gifted students

Fill the application form: https://www.fmeposting.com.ng/web/sulejaForm
Print Out a Copy of the Completed Registration Form.
Proceed to Pay the Sum of 1,500 on Remita.
Get a Printout of the Remita Payment Receipt
You are  required  to  come  to  the  Exam  Centre  with  the  Print  Out  of  your Registration Form and the Remita Payment Receipt.
Note: No application will be entertained after this date.
FGA SULEJA Result is Out
This is to inform all parents and guardians the FGA Sulaje results is out. All successful candidates are to collect their Letters of Admission from the Principal's Office. The proof of ownership is the photo card issued to the candidates during the Entrance Examination.
Resumption is yet to be announced
Time: 9:00 am to 5:00 p.m
Click here to download the list of student admitted on merit