School Fees
FUD School Fees For all Departments 2019/2020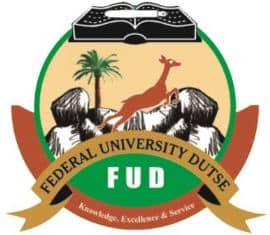 The Federal University Dutse has released the FUD school fees for both the new and returning students for the 2019/2020 academic session. The tuition fee is grouped by the departments in the school.
For the fresh students, you have to pay an acceptance fee of N5,000:00 (Five Thousand Naira). This can be done by generating an Invoice for Acceptance fee and also generate your RRR Number for Remita to make payment Online or any Branch.
This is to inform all returning and new students admitted into FUD in the First & Second batches, that the Management has extended their period of registration for the 2019/2020 academic session upto Saturday 11th January, 2020 upon payment of N5, 000.00 (five thousand naira) late registration charges.
FUD School Fees Breakdown
S/N
DETAILS
AMOUNT
1.
Tuition Fee (Payable by Foreign Students)
100,000.00
2.
Certificate Verification Fee (Fresh Student Only)
3,000.00
3.
Registration:
a) University
b) Faculty
c) Department

4,500.00
1,000.00
1,500.00
4.
Library Fees
2,000.00
5.
General Studies (GST) Fee
3,000.00
6.
Examination Fees
2,000.00
7.
Sessional Statement of Result Fee Payable to Department
2,000.00
8.
Sports and Games
2,000.00
9.
I.D Card Fees (Fresh Students Only)
2,500.00
10.
Development Levy
5,000.00
11.
Student Union Benevolent Fund
500.00
12.
Field Work, SIWES & Teaching Practice Fees (Agric. Science and Medical Students Only)
4,000.00
13.
Laboratory Bench Fees (Science Students Only)
8,000.00
14.
Laboratory Bench Fees (College of Medicine Only)
13,000.00
15.
Students Information's Booklet (Fresh Students Only)
2,000.00
16.
Medical & Insurance Fee
2,000.00
17.
Students Union Government (SUG) Dues
1,000.00
18.
M.I.S Fees
2,500.00
19.
Caution Deposit Fee (Fresh Students Only)
5,000.00
20.
Environmental Management Fee
1,000.00
EXCLUDING HOSTEL MAINTENANCE
FACULTY OF SCIENCE & FACULTY OF AGRICULTURAL SCIENCES
| | | |
| --- | --- | --- |
| S/N | DETAILS | AMOUNT |
| a. | Fresh Students Only | 54,500.00 |
| b. | Returning Students | 42,000.00 |
| c. | Returning Students (Final Year) | 47,000.00 |
FACULTY OF ART AND SOCIAL SCIENCE & FACULTY OF MANAGEMENT SCIENCES
| | | |
| --- | --- | --- |
| S/N | DETAILS | AMOUNT |
| a. | Fresh Students Only | 42,500.00 |
| b. | Returning Students | 30,000.00 |
| c. | Returning Students (Final Year) | 35,000.00 |
FACULTY OF COMPUTING
| | | |
| --- | --- | --- |
| S/N | DETAILS | AMOUNT |
| a. | Fresh Students Only | 48,500.00 |
| b. | Returning Students | 36,000.00 |
| c. | Returning Students (Final Year) | 41,000.00 |
COLLEGE OF MEDICINE
| | | |
| --- | --- | --- |
| S/N | DETAILS | AMOUNT |
| a. | Fresh Students Only | 59,500.00 |
| b. | Returning Students | 47,000.00 |
| c. | Returning Students (Final Year) | 52,000.00 |
OTHERS
| | | |
| --- | --- | --- |
| S/N | DETAILS | AMOUNT |
| * | Late Registration (Period to be Specified each year) | 5,000.00 |
| * | Hostel Maintenance Fees | 15,000.00 |
Finally, if you want to pay for the FUD hostel fees, you can Verify your payment from the Portal using the invoice number & reserve accommodation via http://hostel.fud.edu.ng