JAMB
Important Information from JAMB to all candidate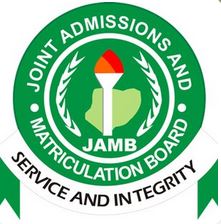 Our Attention of has been drawn to cases of candidates who have bought ePINS and were not able to proceed with their registration.
1. This was caused essentially by A very high rate of candidates buying ePINS without creating their profile first.
2. Incorrect email address provided at the bank teller.
3. Recent enforcement of email validation of candidates emails. Candidates who have not created their profile properly would be affected.
4. Unforeseen technical issues in the PIN vending system.
JAMB hereby advises all candidates as follows:
a. Candidates are NOT to buy new pins in the case of invalid pins. The cause of the invalid pin has been investigated
b. All candidates having invalid pins responses have been captured on d system nd wil receive their PIN details on or before Monday 27th March
c. Emails with candidate name, email and valid pins will be sent to candidates.
JAMB therefore has taken the following steps to ensure the continuation of the registration process.
All candidates MUST create their profiles before proceeding to buy d ePIN. D ePIN vendors (Banks) can create the profile before vending the pin.
Each candidate's email address will now be verified on the system before ePINS are vended
Any candidate with an incorrect email address will not be served. It therefore requires entering the same valid email address twice.
All candidates are to ensure that they provide valid phone numbers.
Candidates are encouraged to utilise only Jamb accredited Centers (List available on our website)
No one should patronize fraudsters, many of whom are now in Police custody. Only CBT Centres accredited by JAMB can do valid registration.
Any institution that charges more than 2000 naira should be reported – JAMB
Candidates who have done Post UTME in any institution which charged more than the N2000 fee by the HME are kindly advised to indicate.
Any candidate that has paid over N2000 for their Post UTME should avail us with the information and evidence of payment. kindly tweet to us the name of the Institution and the amount charged.
The Board is looking into these cases and intends to take them up with the institutions. Evidence of such payment would be treated with strict confidence by the Board. However, you may blur your personal details if you need.
You can forward your evidence to [email protected]
Candidates are advised to kindly disregard reports making round on the Honorable Minister stating the refund of payment for PUTME
However the Minister would certainly direct the refund for candidates who have paid more than the directed N2000.
Please send to us directly if you are charged above the Board's official fee. Please click here
You can also visit JAMB twitter page for more info: JAMB(@JAMBHQ)