Cut off Mark
Maritime Academy of Nigeria Cut Off Mark 2022/2023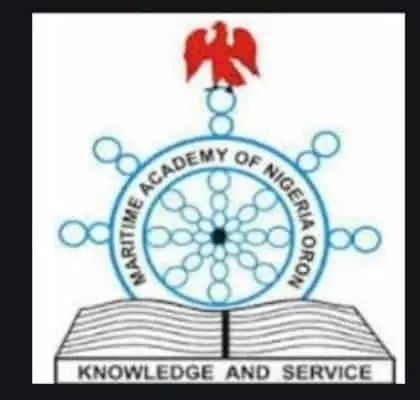 The management of Maritime Academy of Nigeria (MAN), Oron, have released the cut-off mark for the 2022/2023 academic session admission exercise.
The Maritime Academy of Nigeria is Nigeria's premier maritime institution, charged with the responsibility of training all Level of manpower to man Merchant Navy Ships, Ports, Maritime Engineering Workshops, Pilotage, Shipyards and other Marine related industries. The Academy is listed in the International Maritime Organization's White list of countries that have fully complied with the STCW 1978 Convention, as amended in 2010.. The Academy has Three Schools Namely School of Marine Engineering, School of Maritime Studies and School of Nautical Studies, the Academy also has specialized Centers, Library/Resource Center and Academic Departments. In addition, the Academy has a Rectorate, Registry, Bursary, Legal Department, ICT Center, Works and Services, Health Services and Research and Statistics
Read: JAMB cut off mark for all institutions in Nigeria
MAN Oron Cut Off Mark
Below is the Academy's Jamb cut-off mark for 2022/2023 Academic year:
A minimum of 175 marks in the UTME for:
Nautical Science
Marine Engineering and
Electrical/Electronic Engineering
  A minimum of 160 marks in the UTME for Maritime Transport and Business Studies.
The implication of the above cut off mark is that any candidate who met the requirement will be eligible for MAN Post UTME screening exercise. However, you will still have to meet up with the departmental minimum point before you can be offered admission into the school