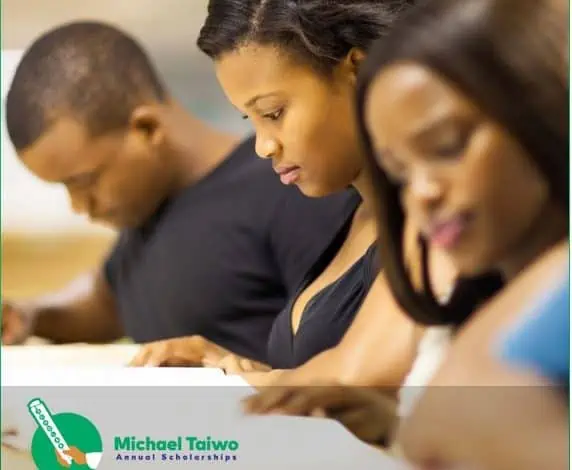 Micheal Taiwo Annual Scholarships 2023 application window is now open. The scholarship serves bright but financially challenged students from developing countries. The award typically goes to recent college graduates.
Micheal Taiwo scholarships award GRE/GMAT/TOEFL/IELTS scholarships and cover up to four school application fees and other relevant fees. This averages about $1,000 per student. Coming up with a thousand US dollars is a steep hill to climb for many students in a developing country.
Eligibility Criteria:
The scholarship award is open to ALL recent graduates from a university, regardless of their course of study. Also, final year students are eligible to apply.
Ideal candidates have a minimum CGPA of 4.0 in a 5-point system (or equivalent CGPA if not based on a 5-point scale) or, in the case of final year students, have such CGPA as at end of the penultimate year. That said, an application is considered holistically; hence, all eligible candidates are encouraged to apply.
How to apply for Micheal Taiwo Scholarships
Click here to start the application process
Fill out the form provided
Application form will open for submissions on Monday, June 26, 2023 at 5:00AM GMT and close on Thursday, July 6, 2023 at 11:59PM GMT.
Adhere to all the instructions on how to fill out this year's application form
Kindly note that the scholarship committee uses several factors in screening the initial application. The goal is to select a diverse, service-oriented group of so-called MT Scholars who have the best chance of thriving through the rigors of a graduate program. The process is not unlike what graduate school admissions committees use in selecting the composition of an incoming class.
What the scholarships covers:
Mentoring by world-class professionals.
Depending on individual needs, payment can be for:
One standard exam (e.g. GRE, GMAT, MCAT, or LSAT);
One English proficiency test (e.g. TOEFL or IELTS);
Application fees for up to six schools and;
Additional score reports to schools.
Read: List of postgraduates scholarships in Nigeria