Education
Comprehensive List Of NCE Courses In Nigeria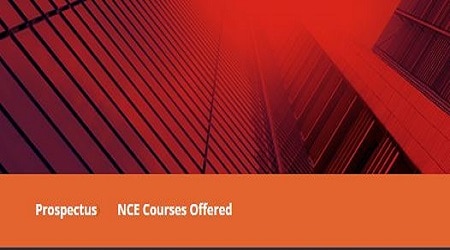 Below are the list of NCE courses in Nigeria. I decided to list the courses according the program some of the college of education in Nigeria offer.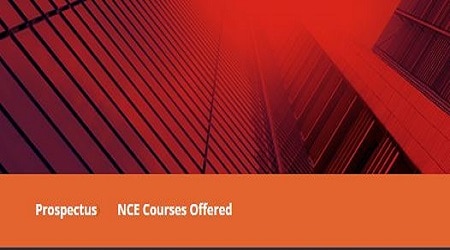 NCE Courses offered at Adeyemi College of Education ACEONDO
Below are the subject combinations for the Nigeria Certificate in Education (NCE) programme in the ACEONDO School of Science.
Biology/Chemistry
Biology/Geography
Chemistry/Mathematics
Computer Science / Economics
Computer Science /Chemistry
Computer Science / Integrated Science
Computer Science / Adult Education
Computer Science / Primary Education Studies
Computer Science /Mathematics
Computer Science / Physics
Integrated Science /Biology
Integrated Science /Physics
Integrated Science /Chemistry
Integrated Science /Mathematics
Integrated Science /Geography
Mathematics/Economics
Mathematics/Geography
Physical and Health Education/Biology
Physical and Health Education/Early Childhood Care Education
Physical and Health Education/Mathematics
Physical and Health Education/Integrated Science
Physical and Health Education/Chemistry
Physical and Health Education Double Major
Physics/Chemistry
Physics/Mathematics
Recommended: 30 Best Colleges of Education in Nigeria
NCE Courses offered at Kwara State College of Education, Ilorin
School of Sciences
Mathematics/Physics
Mathematics/Chemistry
Chemistry/Integrated Sciences
Physics/Integrated Sciences
Mathematics/Integrated Sciences
Biology/Integrated Science
Physical and Health Education (DM)
Biology/Chemistry
Biology/Geography
Biology/PHE
Physics/Chemistry
Integrated Science (DM)
Computer/Mathematics
Physical/Integrated Science
Yoruba/Music
SOS/C.R.K
School of Arts and Social Sciences
Mathematics/Economic
Geography/Integrated Sciences
Geography/Social Studies
Social Studies (DM)
Economics/Social Studies
Political Sciences/Social Studies
History/Islamic Studies
History/C.R.S.
History/Social Science
Music/ Social Sciences
Music/ C.R.S.
Yoruba/Sciences
Yoruba/ C.R.S.
History/Arabic
History/Yoruba
History/French
Arabic/Islamic Studies
Economic/Political Sciences
Social Studies/Christian Religious Studies
Math's/Geography
Geography/Biology
Social Studies/Islamic Studies
Computer Education/Economics
School of Languages:
English/Political Science
English/History
English/Social Studies
English/Islamic Studies
English/ C.R.S.
English/Yoruba
English/Hausa
English/Music
English/French
English/Social Studies
Hausa/Social Studies
Hausa/Yoruba
Hausa/Islamic Studies
French/Yoruba
French/SOS
Arabic/Medium
School of Vocational and Technical Education
Technical Education
Accounting Education
Office Education
Agricultural Science (Double major)
Home Economic (Double Major)
Fine/Applied Arts (Double Major)
School of Education:
Primary Education/Islamic Studies
Primary Education/Social Studies
Primary Education/Integrated Sciences
Primary Education/English
Primary Education/Primary Science
Primary Education/Mathematics
Primary Education/Yoruba
Primary Education/History
NCE Courses offered at College of Education Zing
AGRIC EDUCATION
ARABIC/ISLAMIC STUDIES
ARABIC/PRIMARY EDUCATION STUDIES
BIOLOGY/GEOGRAPHY
BUSINESS EDUCATION (DM)
CHEMISTRY/BIOLOGY
CHEMISTRY/GEOGRAPHY
CHRISTIAN RELIGIOUS STUDIES/ENGLISH
CHRISTIAN RELIGIOUS STUDIES/HISTORY
CHRISTIAN RELIGIOUS STUDIES/POLITICAL SCIENCE
CHRISTIAN RELIGIOUS STUDIES/PRIMARY STUDIES
CHRISTIAN RELIGIOUS STUDIES/SOCIAL STUDIES
COMPUTER SCIENCE/BIOLOGY
COMPUTER SCIENCE/CHEMISTRY
COMPUTER SCIENCE/ECONOMICS
COMPUTER SCIENCE/GEOGRAPHY
COMPUTER SCIENCE/INTEGRATED SCIENCE
COMPUTER SCIENCE/MATHEMATICS
COMPUTER SCIENCE/POLITICAL SCIENCE
ECCE
ECONOMICS/GEOGRAPHY
ECONOMICS/HISTORY
ECONOMICS/MATHEMATICS
ECONOMICS/POLITICAL SCIENCE
ECONOMICS/SOCIAL STUDIES
ENGLISH/HAUSA
ENGLISH/HISTORY
ENGLISH/ISLAMIC STUDIES
ENGLISH/POLITICAL SCIENCE
ENGLISH/PRIMARY EDUCATION STUDIES
FINE AND APPLIED ART (DM)
FRENCH (DM)
FRENCH/ARABIC
FRENCH/CHRISTIAN RELIGIOUS STUDIES
FRENCH/ENGLISH
FRENCH/FINE ART
FRENCH/HAUSA
FRENCH/HISTORY
FRENCH/ISLAMIC STUDIES
FRENCH/MUMUYE
FRENCH/PHYSICAL EDUCATION STUDIES
FRENCH/SOCIAL STUDIES
GEOGRAPHY/CHEMISTRY
GEOGRAPHY/ENGLISH
GEOGRAPHY/POLITICAL SCIENCE
GEOGRAPHY/PRIMARY EDUCATION STUDIES
GEOGRAPHY/SOCIAL STUDIES
HAUSA/CHRISTIAN RELIGIOUS STUDIES
HAUSA/ISLAMIC STUDIES
HISTORY/GEOGRAPHY
HISTORY/HAUSA
HISTORY/ISLAMIC STUDIES
HISTORY/POLITICAL SCIENCE
HISTORY/PRIMARY EDUCATION STUDIES
HISTORY/SOCIAL STUDIES
HOME ECONOMICS (DM)
INTEGRATED SCIENCE (DM)
INTEGRATED SCIENCE/BIOLOGY
INTEGRATED SCIENCE/CHEMISTRY
INTEGRATED SCIENCE/GEOGRAPHY
INTEGRATED SCIENCE/MATHEMATICS
INTEGRATED SCIENCE/PHYSICS
ISLAMIC STUDIES/PRIMARY EDUCATION STUDIES
ISLAMIC STUDIES/SOCIAL STUDIES
MATHEMATICS/CHEMISTRY
MATHEMATICS/GEOGRAPHY
MUMUYE/ARABIC
MUMUYE/CHRISTIAN RELIGIOUS STUDIES
MUMUYE/ENGLISH
MUMUYE/FRENCH
MUMUYE/GEOGRAPHY
MUMUYE/HAUSA
MUMUYE/HISTORY
MUMUYE/ISLAMIC RELIGIOUS STUDIES
MUMUYE/SOCIAL STUDIES
PHYSICAL AND HEALTH EDUCATION (DM)
PHYSICAL HEALTH EDUCATION/BIOLOGY
PHYSICAL HEALTH EDUCATION/CHEMISTRY
PHYSICAL HEALTH EDUCATION/COMPUTER
PHYSICAL HEALTH EDUCATION/GEOGRAPHY
PHYSICAL HEALTH EDUCATION/INT SCIENCE
PHYSICAL HEALTH EDUCATION/MATHS
PHYSICAL HEALTH EDUCATION/PHYSICS
PHYSICS/CHEMISTRY
PHYSICS/MATHEMATICS
POLITICAL SCIENCE/ISLAMIC STUDIES
POLITICAL SCIENCE/SOCIAL STUDIES
PRIMARY EDUCATION STUDIES (DM)
PRIMARY EDUCATION STUDIES/HAUSA
SOCIAL STUDIES/ENGLISH
SOCIAL STUDIES/HAUSA
SOCIAL STUDIES/PRIMARY EDUCATION STUDIES
TECHNICAL EDUCATION (DM)
NCE Programms offered at Federal College of Education Pankshin
AGRICULTURE SCIENCE (DM)
BUSINESS EDUCATION
FINE AND APPLIED ART
HOME ECONOMICS
PHYSICAL AND HEALTH EDUCATION(PHE)
TECHNICAL EDUCATION
MUSIC/FRENCH
MUSIC/HAUSA
MUSIC/YORUBA
HAUSA/FRENCH
HAUSA/YORUBA
HAUSA/IGBO
HAUSA/ARABIC
HAUSA/IRS
YORUBA/IGBO
ARABIC/IRS
ARABIC/FRENCH
YORUBA/FRENCH
IGBO/FRENCH
IGBO/ARABIC
YORUBA/ARABIC
CRS/HAUSA
FRENCH/IRS
MUSIC/IGBO
ENGLISH/FRENCH
MATHEMATICS/MUSIC
ENGLISH/ARABIC
ENGLISH/MUSIC
ENGLISH/YORUBA
SOCIAL STUDIES (DM)
SOCIAL STUDIES/PES
SOCIAL STUDIES/ENGLISH
SOCIAL STUDIES/CRS
PHYSICS/INTEGRATED SCIENCE
BIOLOGY/INTEGRATED SCIENCE
CHMISTRY/INT.SCIENCE
SOCIAL STUDIES/IRS
ENGLISH/HAUSA
SOCIAL STUDIES/IGBO
SOCIAL STUDIES/YORUBA
SOCIAL STUDIES/HAUSA
SOCIAL STUDIES/FRENCH
SOCIAL STUDIES/MUSIC
PES/ENGLISH
PES/CRS
PES/MATHEMATICS
PES/INTEGRATED SCIENCE
ENGLISH/IGBO
PES/HAUSA
PES/IGBO
PES/YORUBA
CRS/MUSIC
CRS/FRENCH
CRS/ARABIC
ISS/FRENCH
ISS/IGBO
ISS/PES 58
ISS/SOCIAL STUDIES
ENGLISH/CRS
FRENCH/CRS
YORUBA/CRS
IGBO/CRS
CHEMISTRY/BIOLOGY
CHEMISTRY/BIOLOGY
COMPUTER/BIOLOGY
BIOLOGY/PHYSICS
COMPUTER EDU./INT.SCIENCE
MATHEMATICS/INT.SCIENCE
CHEMISTRY/PHYSICS
CHEMISTRY/MATHEMATICS
ENGLISH COMPUTER EDU
ISS/CRS
PHE/COMPUTER EDUCATION
ARABIC/SOCIAL STUDIES
ARABIC/PES
ARABIC CRS
CHEMISTRY/COMPUTER EDUCATION
MATHEMATICS/PHYSICS
PHYSICS/COMPUTER EDUCATION
MATHEMATICS/COMPUTER EDU
YORUBA/ISS
INTEGRATED SCIENCE (DM)
EARLY CHILDHOOD CARE AND EDUCATION(ECCE)