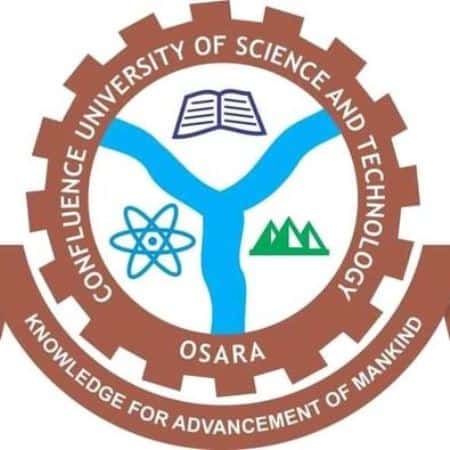 Confluence University is a new state owned institution. And in this article I will be discussing the courses and admission requirements of CUSTECH for the benefits of candidates seeking undergraduate admission into the school.
The Confluence University of Science and Technology (CUSTECH), Osara, was established as specialized university by Kogi State Government to largely address the increasing demand for higher education by the teeming young population of the State.
The new university is due to commence academic activities in the two academic faculties of Science and Computing.
The following four-year degree courses/programmes have been approved by the National Universities Commission (NUC).
CUSTECH Courses
Biochemistry
Biology
Chemistry
Mathematics
Microbiology
Physics
Statistics
Computer Science
Cyber Security
Software Engineering
Information Technology
CUSTECH Admission Requirements
UTME Entry Requirement Into Degree Programmes
Course/Programme
UTME Combination
Compulsory
Elective (with one of the following)
Computer Science
Mathematics and Physics
Biology, Chemistry
Cyber Security Science
Information Technology
Software Engineering
Biochemistry
Biology and Chemistry
Physics, Mathematics
Microbiology
Biology
Chemistry
Chemistry and Biology
Physics, Mathematics
Mathematics
Mathematics and Physics
Chemistry, Economics, Geography
Statistics
Mathematics and Physics
Chemistry, Economics, Geography
Physics
Physics and Mathematics
Chemistry, Biology
O'LEVEL Entry Requirement Into Degree Programmes
Computer Science
English Language, Mathematics, Physics, Chemistry and any one of Biology or Geography
Cyber Security Science
Information Technology
Software Engineering
Biochemistry
English Language, Mathematics, Physics, Chemistry and Biology
Microbiology
Biology
English Language, Mathematics, Biology, Chemistry and any other Science subject. At least a Pass in Physics is required
Chemistry
English Language, Mathematics, Chemistry, Physics and either Biology or Agricultural Science
Mathematics/Statistics
English Language, Mathematics, Physics, with any two of Chemistry, Further Mathematics, Economics, Biology/Agricultural Science, Technical Drawing
Physics
English Language, Mathematics, Physics, Chemistry with any of Biology, Agricultural Science, Geography or IT related subjects