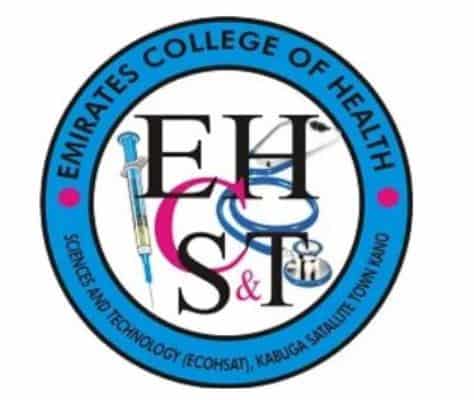 Emirates College of Health Sciences and Technology (ECOHSAT), Kabuga, Kano form for 2021/2022 academic session is on sale. And applications are invited from suitably qualified candidates for admission into the aforementioned institution programmes for the 2021/2022 session.
List of ECOHSAT Courses
Community Health Department
(BSc) Community Health
Certificate Junior Community Health Extension Worker (JCHEW)
Conversion Community Health Extension Worker Retrainee
HND Community Health Extension Worker
National Diploma Community Health Professional Diploma
Community Health Worker (CHEW)
Dental Health Sciences Department
Conversion Diploma Dental Surgery Technician
HND Dental Therapy
ND Dental Health Therapy
National Diploma Dental Health Technology
National Diploma Dental Health Therapy
Professional Diploma Dental Surgery Technician
Environmental Health Technology Department
Conversion Environmental Health Technology
HND Environmental Health Technology
National Diploma Environmental Health Technology
General and Allied Medical Sciences Department
(BNSc) Bachelor of Nursing Science
HND Nutrition and Dietetics
National Diploma Nutrition and Dietetics
Health Information Management Department
Conversion Health Information Management
HND Health Information Management
ND Health Information Management
Professional Diploma Health Information Management
Medical Laboratory Science Department
Conversion Medical Laboratory Technician
Professional Diploma Medical Laboratory Technician
Pharmacy Technician Department
Professional Diploma Pharmacy Technician (Cadre)
Public Health Programe Department
HND Public Health Nursing
How to Apply for ECOHSAT Admission
You can purchase forms online at just N8,500 or visit the school at ECOHSAT Kabuga Satellite Town Kano. For more information, visit www.Ecohsat.edu.ng or contact us on our official numbers: 08182547149/09138088744/08037709304.
Read: List of school of health technology form on sale