A simple guide for students aspiring to study medical laboratory science (MLS) or science laboratory technology in the Universities or Polytechnics in Nigeria.
Medical Laboratory Science is offered only in the University while Science Laboratory Technology (SLT) is offered in both Polytechnics and Universities in Nigeria.
The list of the Universities offering MLS or SLT and JAMB requirements for each course are discussed in this article.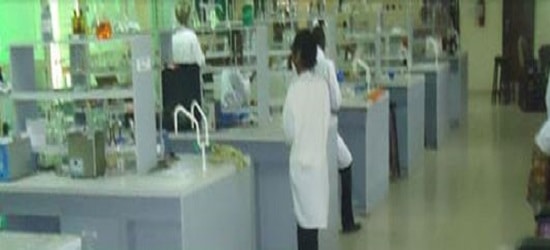 Universities or Schools of Medical Laboratory Science (MLS) in Nigeria
Ambrose Alli University
Afe Babalola University
Babcock University
Bayero University
University of Benin
University of Calabar
Ebonyi State University
Igbinedion University
Imo State University
University of Jos
University of Lagos
Ladoke Akintola University
Madonna University
University of Maiduguri
Niger Delta University
Usman Danfodio University
Nnamdi Azikwe University
University of Nigeria
Entry Requirements for Admission into Medical Laboratory Science
WAEC/NECO: Five (5) SSC credit passes in English Language, Mathematics Physics, Chemistry and Biology
JAMB subject combination for MLS in Nigeria: Physics, Chemistry and Biology
List of Universities offering Science Laboratory Technology (SLT) in Nigeria
Below is the list of accredited Universities that offer the course in Nigeria
Delta State University, Abraka Delta State
Ekiti State University, Ado-Ekiti, Ekiti state
Federal University of Technology, Owerri, Imo State
Federal University of Technology, Yola, Adamawa State
Ladoke Akintola University of Technology, Ogbomoso, Oyo State
University of Benin, Benin Edo State
University of Jos, Jos Plateau State
University of Portharcourt, Rivers State
List of Polytechnics offering Science Laboratory Technology (SLT) in Nigeria
Abia State Polytechnic, Abia State
Akanu Ibiam Federal Polytechnic, Unwana, Ebonyi State.
Akwa Ibom State Polytechnic, Ikot Osurua. Akwa Ibom State
Auchi Polytechnic, Edo State.
Benue State Polytechnic, Ugbokolo, Benue State
Delta State Polytechnic, Ozoro Accredited
Federal College of Chemical and Leather Technology, Zaria, Kaduna State.
Federal Polytechnic, Ado-Ekiti, Ekiti State.
Federal Polytechnic, Bauchi, Bauchi State.
Federal Polytechnic, Bida, Niger State.
Federal Polytechnic, Damaturu, Yobe State.
Federal Polytechnic, Ede, Osun State.
Federal Polytechnic, Ekowe, Yenagoa, Bayelsa State
Federal Polytechnic, Idah, Kogi State.
Federal Polytechnic, Ilaro, Ogun State.
Federal Polytechnic, Kaura Namoda, Zamfara State.
Federal Polytechnic, Mubi, Adamawa State.
Federal Polytechnic, Nassarawa, Nassarawa State.
Federal Polytechnic, Offa, Kwara State.
Federal Polytechnic, Oko, Anambra State.
Gate Way Polytechnic, Saapade
Hassan Usman Katsina Polytechnic, Katsina, Katsina State.
Hussaini Adamu Federal Polytechnic, Kazaure, Jigawa State.
Institute of Management and Technology, Enugu, Enugu State.
Kaduna Polytechnic, Kaduna, Kaduna State.
Kano State Polytechnic, Kano.
Kogi State Polytechnic, Lokoja, Kogi State
Kwara State Polytechnic, Ilorin, Kwara State.
Lagos State Polytechnic, Ikorodu. Lagos.
Moshood Abiola Polytechnic, Ojeere, Abeokuta, Ogun State.
Niger State Polytechnic, Zungeru, Niger State.
Nuhu Bamali Polytechnic, Zaria, Kaduna State.
Osun State College of Technology, Esa-Oke, Osun State.
Osun State Polytechnic, Iree, Osun State.
Our Saviour Institute of Science, Agric and Technology, Enugu State
Oyo State College of Agriculture, Igbo-Ora, Oyo State
Petroleum Training Institute, Effunrun, Delta State.
Plateau State Polytechnic, Barkin Ladi
Ramat Polytechnic, Maiduguri, Borno State.
Rivers State Polytechnic, Bori, P.M.B. 20, Bori.
Rufus Giwa Polytechnic, Owo, Ondo State.
Sokoto State Polytechnic, Sokoto.
The Polytechnic, Ibadan. Oyo State.
Waziri Umoru Federal Polytechnic, Birnin Kebbi, Kebbi State
Yaba College of Technology, Yaba, Lagos.
JAMB subject combination for SLT: Biology, Chemistry and either Physics or Mathematics.
You may like to read: Magnetic Resonance Imaging
Differences between MLS and SLT
Is there a difference between Medical Laboratory Science and Science Laboratory Technology? Yes there is, in fact they aren't the same.
A woman who owns a Medical Laboratory once told me that "every registered Medical Laboratory is not authorized to allow SLT students to undergo intern in their Laboratory, if allowed, there are certain things they can't be exposed to". This boils down to the fact that SLT and MLS are not the same, in fact they aren't a seismic twins that can't be separated .
There is a need for all applicants to know the differences between the two courses before you study any one of the courses.
MLS is a Medical Science or a Clinical course studied in the College of Medicine under the Faculty of Health Sciences in the university or College of Health Sciences only.
Read: Difference between Microbiology and Medical Laboratory Science
Medical Laboratory science course
MLS courses in University include:
Medical Biochemistry
Human Anatomy
Human Physiology
Hematology
Pharmacology
Forensic analysis
Embalmment techniques
Clinical pathology
Biostatistics
Virology
Medical Microbiology and Parasitology
Public Health and Epidemiology etc.
To study MLS in the University, it will take you a period of six years;  five years degree programme and one year of internship. After you have satisfied all conditions, you will then be awarded B.MLS degree
Area of specialization for Medical Laboratory science students include
Medical Microbiology and Parasitology
Virology and Mycology
Public Health and Epidemiology
Histopathology and Cytopathology
Chemical pathology or Clinical chemistry
Hematology and Blood group
Serology
Science Laboratory technology in the other hand can be studied in most Polytechnics and some Universities in Nigeria as I have named above.
Studying in the Polytechnic will take you a period of Four years (2 years OND and 2 years HND) and thereafter you will be awarded HND in SLT but if you study in the University, you will be awarded B.Tech in SLT.
Graduates of SLT from Polytechnic are called Technician while that of a University are called Laboratory Technologist.
Conclusively, graduates of MLS are health professionals while graduates of SLT are not.
Science Laboratory Technology (SLT) Course Outline
These are the first year course outline for SLT in polytechnics
STB 111 Plant and Animal Taxonomy
STB 112 Morphology and Physiology of Living Things
STC 111 General Principles of Chemistry
STC 112 Inorganic Chemistry I
STP 111 Mechanics
SPT 112 Heat Energy
STP 113 Algebra for Science
STP 114 Electronic Logic for Science
GNS 102 Communication in English I
GLT 111 General Laboratory Techniques
COM 001 Computer Applications I
STB 121 Cell Biology
STC 121 Organic Chemistry
STC 122 Physical Chemistry
STP 121 Electricity and Magnetism
STP 122 Optics and Waves
STC 123 Analytical Chemistry
GLT 121 General Laboratory Techniques
COM 002 Computer Applications II
GNS 202 Communication in English II
Related Article: List of science courses in Nigeria
There is an Institute of Science Laboratory Technology in Nigeria. To know about the institute click http://www.nislt.gov.ng/index.php