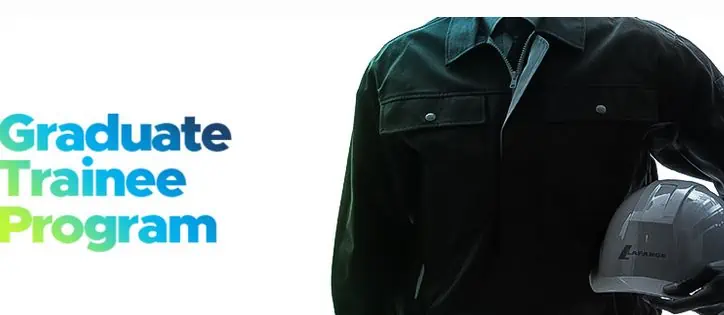 Application into Lafarge Africa Graduate Trainee Program is out. Lafarge Africa PIc is a member of Holcim Group – the global leader in innovative and sustainable building solutions. Lafarge Africa Plc is a publicly quoted company on the Premium Board of Nigerian Exchange Limited (NGX). It serves Nigeria with a wide range of building and construction solutions designed to meet housing and construction needs, from small projects like individual home buildings to major construction and infrastructure projects.
With four plants in Nigeria spread across Sagamu & Ewekoro (South-West), Ashaka (North) and Mfamosing (South), Lafarge Africa Plc currently has an installed cement production capacity of 10.5 million tons per annum.
In 2050, 70% of the world's population will live in cities, twice as many as in 1970. Whether large, medium or small, whether in mature or emerging countries, cities are central to the challenges facing the planet. In response, Lafarge Africa has aligned with Holcim's vision to reinvent how the world builds, to make it greener and smarter for all. We believe in building a world that works for people and the planet. A world that keeps people safe, connected and thriving.
The 2024 Graduate Trainee Program aims to attract a diverse group of young, bright technical talent to develop into strong industry leaders who will help us continue to achieve the extraordinary. Join us as we find better ways to build together.
The graduate trainee scheme is a comprehensive and structured program designed to provide graduates with valuable practical experience, professional development, and exposure to different aspects of the organization. The scheme aims to cultivate a talented pool of individuals who will contribute to the company's growth and success while fostering a pipeline of future leaders.
Lafarge Africa Graduate Trainee Selection Criteria
Recent university graduates with a minimum of a Bachelor's degree in:
Minimum 2.2 CGPA
Maximum 0-2 years work experience
Strong academic performance and a genuine passion for the industry or field of interest.
Excellent communication, teamwork, and problem-solving skills.
Demonstrated leadership potential and a proactive approach to learning.
Adaptability and a willingness to embrace challenges and new experiences.
Objectives:
Skill Development
Cross-Functional Exposure
Mentorship and Guidance
Real-World Projects
Networking Opportunities
Focus Areas:
Engineering
Finance
Business Management
Logistics
Sales
The application deadline is November 7, 2023. To apply, kindly click here