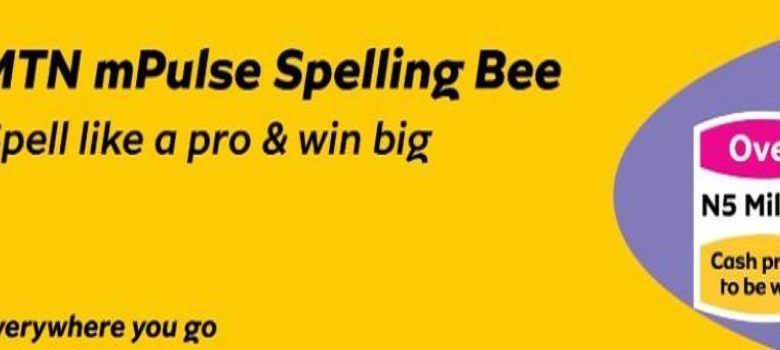 MTN Nigeria invites all primary & secondary school students between the ages of 9 and 15 to participate in the MTN mPulse Spelling Bee competition. Over 5 million naira cash prizes is to be won.
This competition which aims to help students in Nigeria, improve their English spelling and vocabulary, promises to be an exciting one with lots of exciting prizes to be won.
There are 3 stages of the competition. The first stage will be done on the mPulse website and is open to all students resident in Nigeria who are between 9 and 15 years. The top 1,000 from the first round will be invited for the second round of the competition which will also be done on the mPulse website. The 3rd stage and grand finale will be done online via live video conferencing.
Read: List of secondary school competition in Nigeria
MTN Spelling Bee Rules
Spelling Bee portal opens for practice tests at 3pm on 1st September 2021.
Round 1 Competition runs from 3pm on 13th September 2021 to 11:59pm on 3rd October 2021
Competition is open to only boys and girls in primary and secondary schools in Nigeria who are between 9 and 15 years old.
Participants must be resident in Nigeria.
Participant's phone number used for registration must be on mPulse tariff plan. Dial *344*1# to migrate your phone number to the mPulse tariff plan.
Participants must have successfully updated their profile on the mPulse website
Participants must have successfully linked with their parent(s) on the mPulse website
Practice test can be done multiple times but each Quiz round can be taken ONLY ONCE.
Make sure you are using 3G or 4G LTE network for best performance
If you have any question, refer to our All You Need to Know page to get your questions answered.
Prizes
The prize for the Winners may include scholarship grant, winner's trophy, laptop, smartphone, mPulse goody bag which may include mPulse school bag, mPulse t-shirt, mPulse head phone, mPulse math set, mPulse notebook, mPulse pen, mPulse hand fan, mPulse bubble sticker, mPulse drawstring bag, etc.;
Every Winner will be required to collect their prize at the grand finale or as maybe communicated by MTN for Winners to pick up their prize;
Winners shall be responsible for promptly picking up prizes won and all incidental costs thereto ;
Winners will be required to have their pictures taken or images video-recorded and these pictures may be published online or through any other medium or forum that MTN desires. By entering for this Competition, you and your parents/guardians agree to have your pictures taken and/or images recorded for publication by MTN or any of its third-party partners.