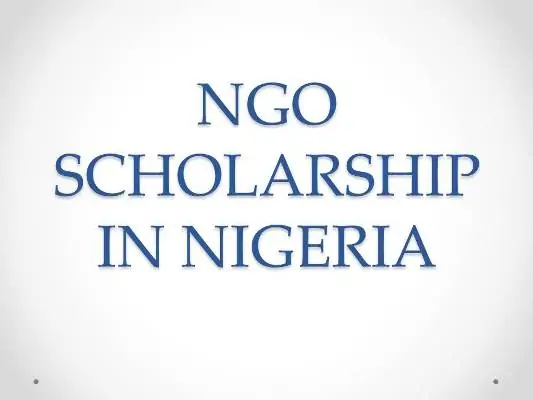 There are several NGOs scholarships in Nigeria for those seeking for the scholarships opportunities. The aim of the opportunity is to aid students or entrepreneurs that are not capable of meeting the financial requirements needed to study and to help them accomplish their educational dream.
These scholarships are provided by non-profit organizations and in this article; you will find the top NGO Scholarships in Nigeria with full requirements, application process and links to apply for each of the scholarships directly.
NGO Scholarships In Nigeria
The Tony Elumelu Foundation Entrepreneurship Programme
Allex Otti Foundation Scholarship
This NGO Scholarships will be awarded based on strong personal academic background, leadership potential, and a demonstrated desire to use the acquired knowledge to contribute to societal development. Upon completion of their studies, Winners should apply their talents and knowledge in improving the lives of others. Over time, the Foundation expects its scholarship beneficiaries to form a strong network of leaders who will individually and collectively contribute to the wellbeing of Abia State in particular and Nigeria in general.
Eligibility
Students who are currently in 2nd-year (200 Level) in any government-owned tertiary institution in Nigeria.
The candidate must have had at least a CGPA of 3.5 – for universities (or its equivalent, for other tertiary institutions) in his/her first academic session (that is, First Year).
Orji Uzor Kalu Foundation
The Foundation which has strong interest in education and health, in collaboration with Venezuela Embassy in Abuja had earlier announced scholarship for 50 undergraduate students to study medicine in Latino American Medicine School, Venezuela.
Eligibility
Should be an undergraduate who is willing to gain admission into  the university in the 2023/2024 academic year
Should have good grades in West African Examination Council (WAEC) or National Examinations Council (NECO). 'A' grades in Biology, physics and Chemistry is added advantage
Should be a citizen of Nigeria
Should take responsibility of gaining admission in any of the selected universities. The Foundation pays for the JAMB and POST-UME (if applies) and expects the student to send his admission letter to the Foundation when shortlisted by any of the universities. The Foundation shall not influence any of the admission process.
The Foundation promotes academic excellence and believes that students with 'A' grades in the three major science subjects will perform excellently in JAMB and finish up the entire seven years in the school of medicine.
Bishop Oyedepo Scholarship
The DOF NGO scholarship is for academically excellent students who want to receive a first degree from either Covenant University or Landmark University. Scholars must be African, be a permanent resident of an African country and meet the requirements for admission to any of the universities before applying for the scholarship.
Eligibility
Are citizens and permanent residents of any African Nation
Are between the ages of 18 and 25 at the time of application submission
Are eligible to receive a Nigerian student visa
Are proficient in reading, writing and speaking English
Have a record of exceptional performance at the secondary school level
Jim Ovia Foundation Leaders Scholarship
The Jim Ovia Foundation Leaders Scholarship is a partnership between the Jim Ovia Foundation and the Africa-America Institute, to educate young Africans to lead the continent. The Scholarship is a partnership between the Jim Ovia Foundation, and the Africa-America Institute, to educate young Africans to lead the continent.
Eligibility
Applicant must be a citizen of an African country, residing in Africa;
Exhibit strong academic record and penchant for high achievement;
Demonstrate a Financial Need;
Present an active record of youth leadership within his/her community.
MTN Foundation Scholarship
The MTN Scholarship Scheme is an annual scholarship award that seeks to recognize and reward qualified high performing students. It is made up of the MTN Science and Technology Scholarship Scheme (MTN STSS) and the MTN Scholarship Scheme for Blind Students (MTN SSBS). Both Scholarships under the Youth Empowerment Cause, are currently in their 9th and 7th phase respectively.
Eligibility
3rd year students from Public Tertiary Institutions with 3.5 CGPA or its equivalent Second Class Upper
HND Students with a minimum of 3.0GPA (Upper credit) at their OND Programme
Scholarships will be renewed for the existing students who have maintained a minimum Cumulative Grade Point Average (CGPA) of 3.5 or its equivalent (second class upper/upper credit).
Blind students studying any discipline in their 2nd and 3rd year, with a minimum CCPA of 2.5 or its equivalent, are open to apply for the SBSS.
Guinness Nigeria Undergraduate Scholarship
This NGO scholarship supports Guinness Nigeria's commitment to implementing transformative schemes that foster youth development.
The scholarship will provide full tuition for students who are currently studying in Nigerian Universities and Polytechnics. Student from our host communities are encourage to apply.
Eligibility
Applications are open to students studying the following courses: Engineering & Sciences – Mechanical, Electrical, Chemical, Lab Science, Microbiology, Bio-Chemistry, Marketing & Sales, Human Resources/Industrial & Labour Relations and Accounting.
Candidates must be 1st or 2nd year students in Nigeria Universities or Polytechnics.
WAAW Foundation Scholarship
WAAW Foundation scholarships are awarded to students who demonstrate need and prove their status as full time students in a STEM related course in an African University. Recipients will be required to start a STEM Outreach Chapter at their university.
Eligibility
Open to female students of African origin, living and studying in Africa.
Currently enrolled in an undergraduate B.S.degree program.
Studying STEM-related courses in a University or college in Africa.
Demonstrable financial need
Excellent Academic Record.
Proven leadership, volunteering and community service
Below the age of 32 years.
Only students in their first and second year are eligible to apply. And also students in their third year if studying a five-year course.
Conclusively, apart from NGO scholarships in Nigeria, I have also made a list of undergraduate scholarships in Nigeria.