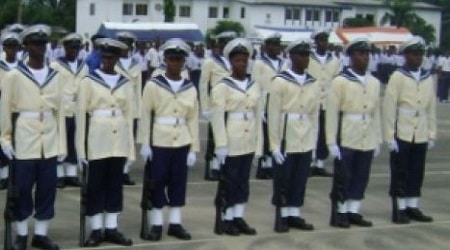 The management of Nigeria Navy Secondary School has released the school fees schedule for 2021/2022 academic session.
About NNSS
The Nigerian Navy Secondary School was first established by the Nigerian Navy (NN) in 1982. The first NNSS was situated at Ojo. It has the highest strength of enrolled students and the greatest concentration of the children of NN personnel. The primary role of the school is to provide qualitative education for children of serving and retired NN Personnel, other Services and civilians. The school has steadily and vigorously maintained a high academic standard since inception. After the first NNSS, six(6) other secondary schools was established in different part of the country. Also, the Nigerian Navy Military School, Ikot Ntuen, the first and only Military School established by the Nigerian Navy commenced both military and academic activities on 15 April 2018. The School was subsequently commissioned on Wednesday 23 May 2018 by His Excellency, Mr Udom Emmanuel, the Governor of Akwa Ibom State, Nigeria.
Nigerian Navy Secondary School Fees
The amount payable i.e. school fees for the first term is N31,000. So in a session, a student is expected to pay N93,000 (first, second, and third term). Although there may be other charges for newly admitted student (Jss 1), such charges will be given after your child has be offered admission into the school. The hostel fee is N45,000 since the school has boarding facilities.
Read: Nigerian Navy Secondary School Admission Form