NYSC
NYSC Exemption Letter Collection Procedure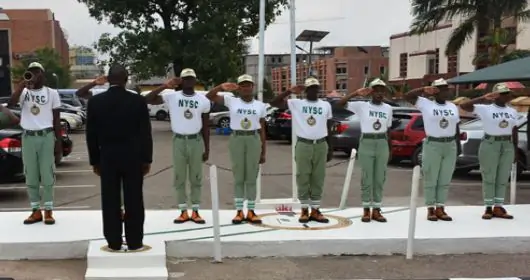 The NYSC exemption letter is issued by law to those who may not participate in the programme. And for you to be qualified for the certificate of exemption, you must fall under these categories either as Nigerian or foreign graduates:
You are older than thirty years (30) by the time he/she graduates from the university or polytechnic can apply for an exemption certificate.
You have served in the Nigerian Police or any arm of the Armed Forces of Nigeria for at least nine months can apply for a certificate of exemption.
You have been conferred with any National Honour
You are a staff member of any of four organization or agencies listed below
The Defence Intelligence Service
The National Intelligence Agency
The Nigerian Security Organization
The State Security Service
It is also worthy to note that there is a difference between letter of exemption and exclusion letter. Part-time students of any University in Nigeria or abroad are not to be called up for NYSC, therefore, they are issued exclusion while certificate of exemption are given to full-time students who by law may not participate in the NYSC programme.
Before I proceed to how to apply for the exemption certificate, some graduates thought there are disadvantages of NYSC exemption letter. To the best of my knowledge, there are no disadvantages to graduate who collected the exemption letter. They are qualified by law to enjoy any privilege accorded to those with the original NYSC certificate. The only thing they might probably miss are the vibes at the orientation camp and the NYSC allowance.
How to apply for NYSC exemption Letter
For Home trained graduates
Collection of Certificate of Exemption for Nigerian trained graduates is only processed in the Institution you graduated and not in NYSC office. Below is how it is being done:
The institution you attend will submits the list of their graduates alongside with the Senate approved result i.e. senate list to NYSC.
The after submission to NYSC, the list is processed by NYSC and they will sort out those to be called up for service and those to be exempted. This list is sent back to your Institutions for verifications and corrections after which they are returned to NYSC as an agreed/corrected document. After this, the Certificates of Exemption are given to the Institutions for issuance to the appropriate persons.
For foreign students
You have to appear physically at the Abuja office with the following documents
First Degree Certificate BA, B.SC, HND.
Complete transcript of the degree or HND
Marks Sheets ( for Indian schools only)
' O'Levels i.e WASC, WAEC, GCE, SSCE, NECO,IGCE, High school Diploma or High School Diploma
Registration certificate with Medical Dental Council of Nigeria ( for doctors only)
Registration certificate with Pharmacist Council of Nigeria ( for Pharmacists only)
Three (3) Passport size photographs.
Nigeria International passport Showing the following:
First Departure date from Nigeria
Student Visa
Last arrival date into Nigeria
The process begins with the evaluation of credentials. After evaluation, you will be registered and it is at the point of registration that the classification of who to be called-up or who to be exempted is determined.
If you are not called-up for service, certificates of exemption will be issued to you. This NYSC exemption letter for foreign graduates is to be collected at the NYSC directorate headquarters at the stipulated time communicated.
NYSC Office Location
National Youth Service Corps
National Head Office,
Director-General,
Directorate Headquarters,
Plot 416, Tigris Crescent.
Off Aguiyi Ironsi Street, Maitama.
PMB 138, Garki ,Abuja.
Email: info@nysc.gov.ng
Plot 416, Tigris Crescent, Maitama, Abuja.