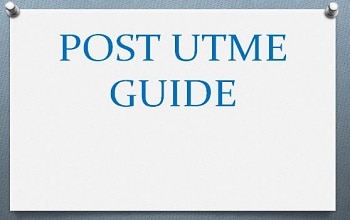 Post UTME is the test or screening conducted by Universities, Polytechnics or Colleges for Education after JAMB has conducted UTME.
Many candidates may wonder why they still need to be screened after they have successfully passed UTME. Well, Post JAMB has generated debates among stakeholders in the country, and even it has been discussed at the planetary by Nigerian senators whether the test should be canceled or allowed to stay.
It has been concluded that Universities, Polytechnics, and Colleges of Education should go ahead to conduct Post-UTME.
It is worthy to note that this exercise is crucial in determining whether you will be offered admission or not. And that is why you mustn't take it for granted.
Before you can be allowed to participate in the exercise, you must meet the JAMB cut-off mark for the school of your choice especially the one you chose as first choice while registering for JAMB.
In this article, I will be exposing my readers to:
[when is Post-UTME form coming out]
[schools that don't write Post-UTME]
[list of schools that their Post-UTME form is still on sale]
When is Post-UTME Form Coming Out
Like I have said earlier that the form usually come out after JAMB UTME has ended. In most cases, schools in Nigeria do start selling their Post-JAMB form around July every year.
Candidates are advised to start checking the school portal of their preferred institution for the latest news as regards the form.
However, some private universities do sell the form before the JAMB exam. The reason for this action is best known to them. So it is better to always check their website for information before and after UTME.
Schools that don't write Post UTME
To the best of my knowledge, most tertiary institutions do conduct screening. If your preferred university is not conducting a test, it means that you are adjudged based on your JAMB score and your O'level result. For example, UDUSOK and most private university only conduct screening.
Furthermore, if you want to know the list of schools that their Post JAMB form is still on sale, click here.
Note:
(1) Your JAMB score + PUTME score + O'level result = Admission. To be a smart candidate, you have to check how the admission process (cut off mark, grading system, past questions, registration fee, etc.) for the school of your choice went in the previous session to know what lies ahead of you.
(2) Many schools doesn't allow candidates to write their PUTME if they don't chose or apply to the school through JAMB.
(3) Most Polytechnics allow candidates who chose them as second choice write PUTME. However, some Universities allow the same.
(4) If you don't meet the PUTME cut-off mark of the program you chose i.e. if you score less than your program cut-off mark, you can still be offered admission to study another course within the same faculty as prefered course but with cut-off mark that fit your score. Scoring below 50% in PUTME won't qualify you for any program.
(5) To the best of my knowledge UI is the only school that conduct their Post UTME in Paper Based Test. All other schools use CBT.
Read: Useful tips on what to read for post JAMB