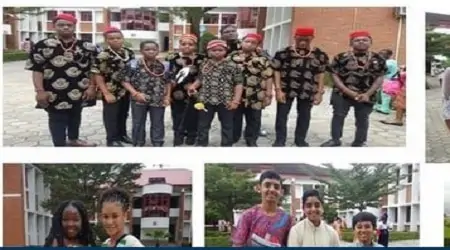 Many parents think that the only factor for determining the best secondary schools in Nigeria is the overall performance of the schools in WAEC result. As this might look true on the surface but deep down the performance of schools in WAEC is not the only thing to determine the best secondary school for your children.
There are other things you need to look for in a school that will have a significant contribution to the overall success of your child in life.
5 qualities of the best secondary schools in Nigeria
Adequate professional teachers
Best secondary schools in Nigeria employ professional teachers to teach their students. You can't just take your child to a secondary school where the highest certificate possesses by their teachers is an Ordinary National Diploma (OND). Schools with only secondary school leavers and OND graduates are what I usually call a "mushroom secondary school."
There are skills needed by every teacher before they can be qualified to teach, mentor, motivate and inspire your child to learn.
Job satisfaction by the teachers
A teacher that is not well paid and taken care of cannot deliver maximally on his/her job. Teachers earning a poor salary are often inefficient in their work, and this may have a direct impact on the academic performance of your child. For this reason, it is essential as a parent to know whether the teachers in the school you are taking your child are happy.
A good number of secondary schools in Nigeria can boast of stable teachers because their teachers leave due to poor working condition and lack of job satisfaction.
Conducive environment for learning
One of the good qualities possessed by the best secondary schools in Nigeria is that the number of students in a class is not more than 30. And the reason is that the owner of the school wants an environment where learning can be easily facilitated. Also, the number of students per teacher is between 10 -15.
Among other things that the schools possess are a well-ventilated classroom, good chairs, and tables for students, a good and functional library equipped with books, a clean environment, well equipped sickbay, etc.
Extra-curricular activities are encouraged in the schools
The schools do engage their students in sporting activities, educative games, cultural activities, excursion, debates and quizzes, etc. these activities help in boosting the overall performance of your child and make them fully prepared for the future.
A record of excellent performance in WAEC, IGCSE, JAMB, etc.
One thing you can't take away from the best secondary schools in Nigeria is their excellent performance in WAEC, IGCSE, NECO, JAMB, etc. Consistently their students perform well in all exams both locally and internationally.
Any school who fully satisfied the first four-point highlighted above will produce outstanding students. Note that the tuition fees of some of these school are high but i can assure you that you will get values for your money.
Read Also: