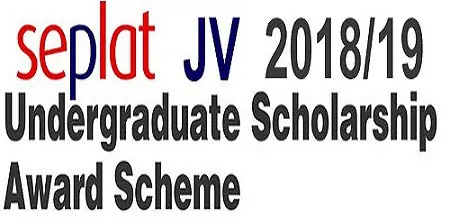 SEPLAT Scholarship for Nigerian Undergraduate students who are 200 level for 2023/2024 is out. The SEPLAT Joint Venture is pleased to announce the commencement of its 2023 edition of seplat JV Undergraduate Scholarships Programme.
The scholarship award is open to deserving students of Federal and State Universities in Nigeria. This Scholarship award is one of the programmes SEPLAT in collaboration with its Joint Venture partner the Nigerian Petroleum Company Ltd uses to support educational development ad human capacity building.
The application deadline for the scholarship is 16th November 2023.
Scholarship worth: N150,000
Requirements
Applicants must be second year students (200 level) in Federal and State Universities in Nigeria.
Applicants must have at least 5 O' level credit passes including English and Mathematics at one sitting.
Have a CGPA of 3.5
Applicants who are currently on scholarship awards from other companies need not apply.
Eligible Courses For SEPLAT Scholarship
Accountancy
Agricultural Engineering
Agricultural Science
Architecture
Business Administration
Chemical Engineering
Civil Engineering
Computer Engineering
Computer Science
Economics
Electrical Electronic Engineering
Geology
Geophysics
Human Medicine
Journalism
Law
Mass Communication
Mechanical Engineering
Metallurgical Engineering
Petroleum Engineering
All applicants must have a personal and valid email account for consistent communication.
How To Apply For SEPLAT Scholarship

To apply for seplat scholarship, kindly follow the steps below:
Kindly Click here
Click on "submit your application"
Fill the form provided and then submit
Please note: The scholarship exam date will only be communicated if your application is successful.
SEPLAT Past questions

You don't need to start looking for SEPLAT past questions, all you need is to follow the instruction below and it be of help to you.
The exam is CBT and not paper based test.
Students that have written this exam confirmed that the questions covers verbal reasoning, quantitative reasoning, critical reason, human resources, business, number series, grammatical expression.
The total number of questions is 30 which should be taken under 45mins. Most of the questions will be taken from GMAT
During the test, once you click next, you can't go back (i.e. there is no back button on the test dashboard).
I think the above tips will help you to be among those that will win the Scholarship.
I have compiled the seplat past question in pdf to download free of charge. Click here to download
You can also download samples of GMAT by Clicking here