Education
Are you looking for why you should shun cultism as a student?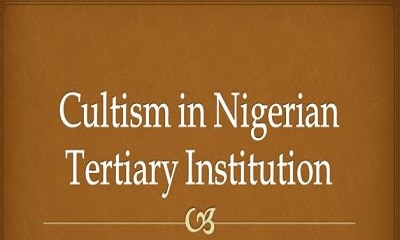 The newly admitted students into Universities and Polytechnics in Nigeria are more prone to be enticed into a cult group because of their ignorance of the effect it will have on them. Amazingly some had even decided to join a cult group before they got admission into a tertiary institution in Nigeria. Thinking it is a means to get all they wanted on campus.
Lexican Webster's Dictionary defines a secret cult as a group of people who share a common cause and whose mode of meetings and agenda are unknown to the public and where initiation into rank and file is usually done in secret.
Causes of cultism in tertiary institutions
Below are the prevalent causes of cultism in Nigerian tertiary institutions
Peer pressure or influence
Societal decadence
Dysfunctional family background
A poor economic system in the country
Decay in social life
Increasing materialism of the society
Erosion of traditional academic culture
The quest for power, status, and protection
The desire for security
In Nigeria of today, one of the menaces of cultism is the killings that are rampant among the rank and file of the group. According to Okwu in one of his articles "A critique of students' vices and the effect on quality of graduates of Nigerian tertiary institutions," he reported that as at September 2003 a total of 5,000 students and lecturers have died on Nigerian campuses due to cult-related violent.
The above report shows that being a member of a cult may endanger one's life. Although according to history, cultism started in 1952 and was founded by Wole Soyinka and six others at the University of Ibadan. Then it was known as Seadog confraternity (Pyrates), and it was peaceful and non-violent back then. But what we have now in various tertiary institutions are deadly groups.
I was going through the news in one of the foremost newspapers in Nigeria (premiumtimes) of how a man was initiated into a cult group in one of the universities in Nigeria. He said "I was invited to a party, when we got there we were taken to the bush around Bauchi Ring Road and beaten. I wanted to leave the cult, but I was afraid because if you leave and they see you on the street, they will beat you. They don't kill, but they will beat you," This is one example of a man who out of ignorance and fear of being harassed got himself initiated into this group.
Dangers of cultism
It is important you note that the disadvantages of joining a cult group outweigh any benefit you think you can get out of the group. Some of them are listed below:
You live in perpetual fear on campus because of the risk attached to joining such a group.
Your life is at risk. You can be killed at any time if there is a clash between your group and another group on the campus.
You can be expelled or rusticated if you are caught by the school authority
It can affect the peace of the school environment thereby leading to a suspension of academic activities.
It can lead to poor academic performance because most of your time will be spent doing what isn't related to your primary aim in school.
Recommended: Causes and Effect of examination malpractice