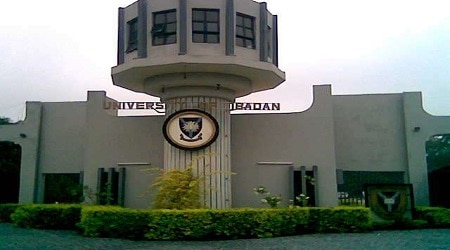 The list of UI Postgraduate courses and the admission requirements are listed below.
AVAILABLE RESEARCH DEGREE PROGRAMMES – UI Postgraduate Courses

Doctor of Philosophy (Ph.D), Master of Philosophy (M.Phil), Master of Public Health (M.P.H.), Degree of Master (M.A., M.Sc., M.Ed, LL.M), These are available in the following Faculties and disciplines:
 (i) Arts
Islamic Studies; Arabic & Islamic Studies; Archaeology; Anthropology; Classics; English (Literature & Language); History; Communication & Language Arts; Linguistics & African Languages; Nigeria Languages (Yoruba); French Studies, Translation, Comparative Literature, Cultural Studies, European Studies; Philosophy, Religious Studies; and Theatre Arts.
(ii) Science
Archaeology; Anthropology; Botany; Microbiology; Chemistry; Industrial Chemistry; Computer Science; Geography (Physical); Geology; Mathematics; Physics; Statistics; and Zoology.
(iii) Medicine
(a) Basic Medical Sciences
Anatomy; Biochemistry; Chemical Pathology; Haematology; Pharmacology & Therapeutics; Physiology; and Virology.
(b) Clinical Sciences
Anaesthesia; Nursing; Psychiatry; Paediatrics; Physiotherapy; and Surgery. Community Health, Occupational Health, Obstetrics and Gynaecology. Opthalmology, Radiotherapy.
(c) Dentistry
(d) Public Health
Biostatistics; Epidemiology and Medical Statistics; Epidemiology; Field Epidemiology; Environmental Health; Human Nutrition; Medical Demography; Health Promotion and Education; Population and Reproductive Health Education, Reproductive and Family Health, Health Policy and Management, Health Services Administration, Institute of Child Health.
Recommended: UI PG Form
(iv) Pharmacy
Pharmaceutics and Industrial Pharmacy; Pharmaceutical Microbiology; Clinical Pharmacy; Pharmaceutical Chemistry; Pharmacognosy. 
(v) Agriculture and Forestry
Crop Protection and Environmental Biology; Agricultural Economics; Agricultural Extension and Rural Development; Agricultural Extension; Rural Sociology; Rural Communication; Home Economics; Agronomy; Animal Science; Forest Resources Management; Wildlife Management and Fisheries Management; Agricultural Biochemistry and Nutrition.
(vi) The Social Sciences
Economics; Geography (Human); Political Science; Sociology; Psychology; Urban and Regional Planning. 
(vii) Education
Adult Education; Literacy Training and Development; Educational Management; Guidance and Counselling; Counselling Psychology; Special Education; Library, Archival & Information Studies; Human Kinetics & Health Education; Teacher Education; School Media: Media Resource Management. 
(viii) Africa Regional Centre for Information Science (ARCIS)
(a) Analysis, Design and Evaluation or Organisational Information Systems Cross-sectional and Longitudinal Studies of Information Phenomena in Organisations. Development and Application of Information Resource Management Systems and Technologies Development and Evaluation of Organizational and National Information Policies. Development and Evaluation of Information System.
(b) Design, Evaluation and Marketing of Commercial Information Products and Services.
(c) Development Information Systems
(d) Education for Information Science
(e) Information in Public Policy
(f) Information Systems
(g) Information Technologies
(h) Informetrics
(i) Macro–Economics Studies of the Information Economy and Society
(j) Scholarly Communication in Science and Technology 
(ix) Abadina Media Resource Centre
Master of School Media (MSM) (Academic) Master of Media Resource Management (MMRM) (Professional) 
(x) Institute of Education
Educational Evaluation (Construction and Validation of Measurement Instrument; Evaluation of Educational Achievement; Public Examinations, Programme Evaluation; Curriculum Evaluation and Psychological Testing) In-Service M.Ed Programmes in Curriculum Development and Educational Evaluation. The programmes will run four semesters. 
(xi) Veterinary Medicine
Veterinary Anatomy; Veterinary Medicine; Tropical Veterinary Medicine; Veterinary Microbiology; Veterinary Parasitology; Veterinary Pathology; Veterinary Physiology; Veterinary Pharmacology; Veterinary Surgery, Veterinary Reproduction; Veterinary Public Health & Preventive Medicine (Master of Veterinary Public Health, Master of Preventive Veterinary Medicine, and M.Sc.
Epizootiology). MVSc. Veterinary Medicine Option in Avian Medicine Companion Animal Medicine, Fish and Aquatic Medicine and Food Animal Medicine.
* The M.Sc. Veterinary Microbiology runs for two sessions.
(xii) Technology
* Agricultural and Environmental Engineering; Wood Products Engineering; Food Technology;
** Industrial & Production Engineering; Petroleum Engineering; Civil Engineering; ***Mechanical Engineering; ****Electrical/ Electronics Engineering.
* Those whose first degrees are NOT in Agricultural Engineering will be required to spend an additional two semesters on the programme.
** Those whose first engineering degrees are NOT in Industrial Engineering will be required to spend an additional semester on the programme.
*** M.Sc. Mechanical Engineering is a three semesters full-time or six semesters part-time programme.
*** Ph.D Programme only.
(xiii) LAW
Master of Law (LL.M)
The Programme
The LL.M Degree Programme is conducted on an interdepartmental basis.
Admission Requirements for UI Postgraduate courses – Law:
Admission is open to any holder of Bachelor's Degree in Law of University of Ibadan or of other approved Universities recognized by the Senate. In addition to the above requirements, applicants must
satisfy the O'Level first degree matriculation requirements of the University of Ibadan i.e. O'Level Credit passes in five subjects at not more than two sittings including merit or credit in English Literature.
Candidates may be required to undergo a selection process. They are therefore encouraged to provide their e-mail addresses and telephone numbers to facilitate invitation for the interview.
(xiv) Institute of African Studies
Anthropology; History; Religion and Belief System; African Music; Dance Studies; Visual Arts; African Law; Peace and Conflict Studies.
M.A., M.Phil and Ph.D in Peace and Conflict Studies
Programme.
The programme is aimed at providing students, drawn from Nigeria, Africa and other parts of the world, with a practical understanding of the issues of peace and conflict in the modern world with particular reference to Africa, based on the perspectives of a range of academic disciplines. The focus of the programme is on how to produce peaceful outcomes from conflict situations.
Admission Requirements for UI Postgraduate Courses – African studies:
Candidates to be admitted for the M.A. Programme shall normally possess at least a good honours degree in, humanities, social sciences, law and other cognate disciplines. Preference shall be given to candidates doing related jobs in Government Parastatals industry and Security Services.
In addition to the above requirements, application must satisfy the 'O' Level/First degree matriculation requirements of the University of Ibadan i.e 'O; Level credit passes in five subjects at not more than two sittings including English Language and four other relevant matriculation subjects.
Duration:
The duration of the Masters Programme is three semesters for a Full-Time Students.
(xv) Other UI Postgraduate courses
University of Ibadan Postgraduate School Admission Requirements
(a) The basic qualification for admission to all postgraduate Courses and Programmes is a first degree of the University of Ibadan or degree/Higher National Diploma of other recognized Institutions in the relevant discipline. Where qualifications are not strictly in the area of admission, remedial courses, which may lead to additional periods of studentship, may be prescribed.
In addition to individual Departmental requirements, applicants must satisfy the 'O' Level first degree matriculation requirements of the University of Ibadan i.e five 'O'Level credit passes at not more than
two sittings including English Language and subject areas for ALL disciplines and Mathematics for ALL Science-based disciplines, Educational Management and Economics and at least a pass in Mathematics for other Social Science Courses OR Holder of NCE must have credit passes in WASC or credit or merit passes in TC II (obtained between 1967 and 1981) in English Language and four other relevant matriculation subjects.
(b) Candidates for the degree of M.Phil and Ph.D. are admitted in the first instance to the Degree of Master Programme. However, candidates who, in addition to a good first degree, and already holding acceptable postgraduate degrees, may be considered for direct admission to the M.Phil and Ph.D. Programmes.
University of Ibadan Postgraduate school fees
The school fees vary for each programmes in UI. For instance, in 2013 I paid N100,850 for the first session and N48, 000 for the third semester (Msc Physics). Some departments pay more than what I paid in 2013. I think you should budget N150,000 for the first session of your postgraduate programme irrespective of the department.
For more information about UI Postgraduate courses, kindly visit http://pgschool.ui.edu.ng/