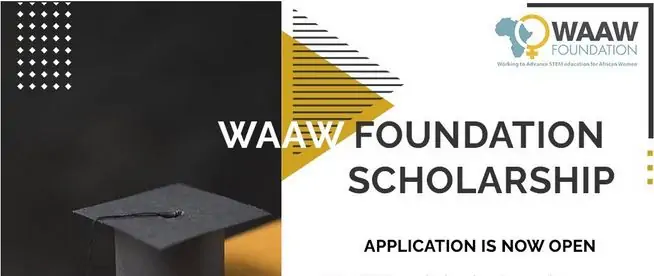 The WAAW has announced her annual Foundation Scholarship for 2023/2024. This initiative is aimed at supporting need based African female STEM-focused college education.
The deadline for the submission of entries is 17th September 2023.
WAAW Foundation scholarships are awarded to students who demonstrate need and prove their status as full time students in a STEM related course in an African University. Recipients will be required to start a STEM Outreach Chapter at their university.
WAAW (Working to Advance Science and Technology Education for African Women) Foundation is an international non-profit organization founded in 2007. Headquartered in Lagos Nigeria with an operational office in Wylie, Texas. Their mission is to increase the pipeline of African women entering into Science and Technology fields and ensure they are engaged in Technology Innovation and Entrepreneurship to benefit Africa.
WAAW Foundation Scholarship Eligibility
Open to female students of African origin, living and studying in Africa.
Currently enrolled in an undergraduate B.S.degree program.
Studying STEM-related courses in a University or college in Africa.
Demonstrable financial need
Excellent Academic Record.
Proven leadership, volunteering and community service
Below the age of 32 years.
Only students in their first and second year are eligible to apply. And also students in their third year if studying a five-year course.
Benefit
Scholarship recipients received an award of $500 for the 2023/2024 academic year, or the equivalent in their country's local currency.
How to Apply for WAAW Foundation Scholarship
Your application will include the following:
The application form filled out completely.
Personal and Contact Information.
Educational background and Family Information.
Statement of need should describe why scholarship funds are needed and what the funds will be used for if received.
Essays are strong criteria in determining candidates who are shortlisted. Responses to essay questions that address career goals and how you expect the WAAW Scholarship will assist in your education. Please have your essay responses ready before you begin the application:

In 500 words or less, please write an essay on your future career goals and how you expect the WAAW foundation scholarship will assist in fulfilling those goals.
In 300 words or less, please describe what you believe about female education in Africa and its impact on research, development or advancement in African economies.
In 500 words or less, what is your proudest achievement to date
Describe in ten or less sentences why you need a scholarship. Tell them about your need or personal/family/financial situation and how the funds from the WAAW scholarship will assist your education and/or career plans.

Two academic/professional references. Note recommendation letters and transcripts ARE NOT REQUIRED at the time of application. ONLY after a candidate has been shortlisted. However, you must provide the names of 2 references in your application.
Recommended: Undergraduate scholarships in Nigeria