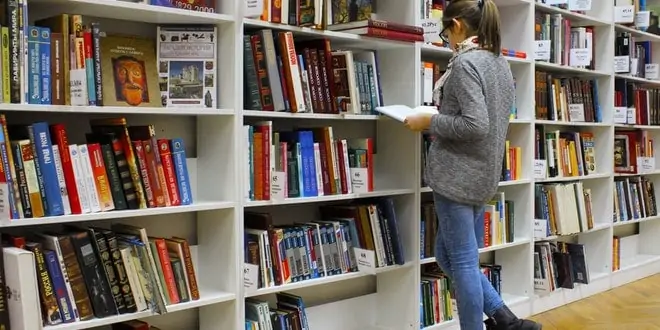 Most secondary school leaver and their parents are always on the crossroad of choosing the best courses to study in Nigerian universities and marketable for themselves or their children respectively.
The reason is that the probability to get employed with a certain degree in some courses in Nigeria is low. The way the country is structured made it hard for some courses to thrive or be lucrative.
The prospect of some courses is brighter when compared with other courses because some courses are marketable. There is no point studying a course that you will won't know your bearing after you have graduated.
What is the gain after spending at least 4 years in the university; one finds it difficult to get a job that will give a good return on investment i.e. a salary that is reasonably commensurate to what you have invested in education.
The measure I used to select the best courses to study in Nigerian universities is based on the research carried out by Stutern on the most employable courses in Nigeria. Stutern team (Jobberman, PushCV, Co-creation Hub, and BudgIT) carried out a research on recent graduates between 2010 and 2016.
They find out that 36.26% of recent graduates are currently employed.  50.09% of the respondents are currently working full time (including self-employed/freelance, voluntary or other unpaid work, developing a professional portfolio/creative practice or on an internship).
And out of those that are employed in Nigeria 1 out of 4 graduates earn less than ₦20,000 ($40) per month as salary for entry-level jobs while well over 80% of employed workers earn not more than ₦150,000 as monthly salary. Another 8.6% are currently engaged in full time and part-time further study, training or research while the remaining 5.05% are presently preparing for further study or professional exams.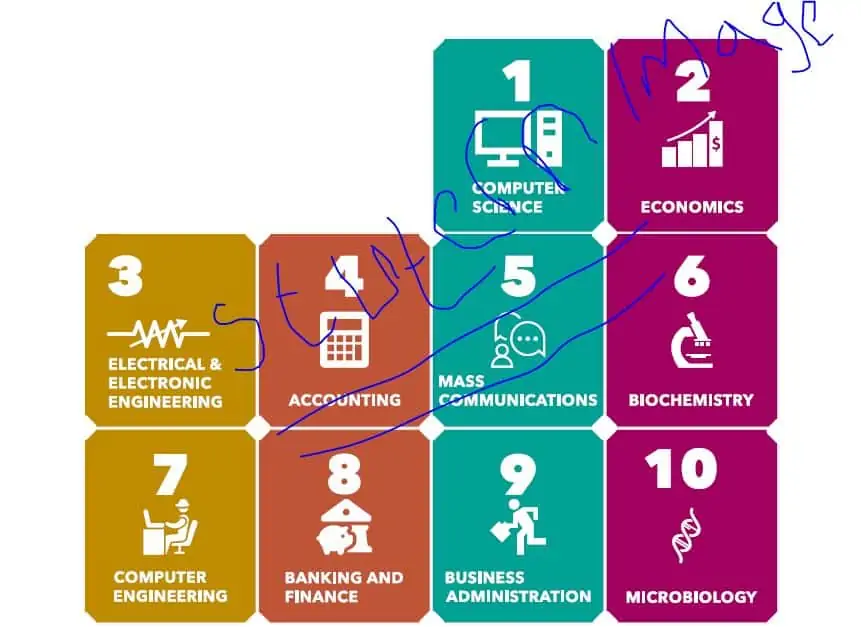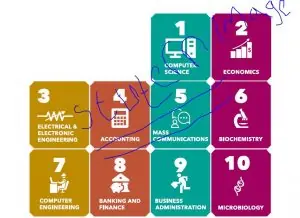 I hereby present to you with the best courses to study in Nigeria that are marketable based on high employable rate.
List of Best Courses to Study in Nigerian Universities
Computer science
On top of the list is computer science. Computer scientists are in high demand globally and also in Nigeria. They have the highest employability rate and this depends majorly on the fact that we are now in IT age.  Even without securing employment with big IT firms there is still the option of freelancing, with an IT backed knowledge and certification graduates stand a chance of making a decent income working on their own.
Economics
It is the social science that analyses the production, distribution, and consumption of goods and services. Employers of graduates of Economics include Accounting Firms, Banks, Brokerage Firms, Insurance Companies, Chambers of Commerce, Market Research Companies, Trade Associations, Import/Export Firms, etc.
Electrical Electronics Engineering
Graduates of Electrical and Electronics are third on the list because of their high demand in industries, especially in oil and gas firms. They are also in high demand in also in production firms, IT companies, power distribution companies etc.
Accounting
Accountants perform overviews of the financial operations of a business in order to help it run efficiently. They can work in a variety of places depending on the role and task involved. Some of their employers are banks, ministries, universities, oil and gas firms, supermarkets, hotels, airports, etc.
Recommended: Universities offering accounting in Nigeria
Mass communication
Graduates of mass communication are also in high demand in Nigeria.  And this is because of the growing need for journalists and media practitioners in radio and television houses, newspaper companies, arts councils, etc.
Biochemistry
This course is one of the top ten most employable courses in Nigeria. Biochemistry graduates are employed in pharmaceutical, biotechnology, food, water and agricultural companies, Environment Agency, forensic science services, research institutes, government departments, the National Health Service, universities, etc.
Computer Engineering
This course has the same outlook as computer science with a little difference.
Banking and Finance
Business Administration
Microbiology
There are opportunities for a microbiologist in a wide range of sectors. Their employers include healthcare organizations such as hospitals, public health organizations, industry – food and drink, petroleum, pharmaceuticals, toiletries, water and biotechnology companies, colleges, universities, etc.
You can also go through Prospect of studying Physics in the university.
Medicine and Surgery
Nursing
Estate management
Law
Chemical/Mechanical/Petroleum Engineering
Note: The first ten are the best courses to study in Nigerian universities based on the top ten most employable courses in Nigeria provided by Stutern. The remaining five are my personal observation.
Recommended: 10 Best Science Courses in Nigeria