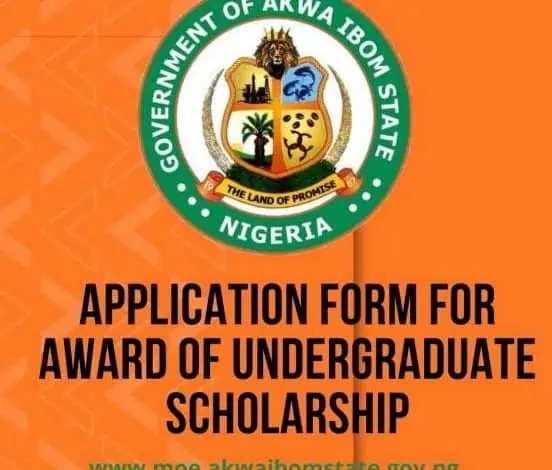 Akwa Ibom state scholarship for undergraduate students is currently ongoing for the indegine of the state. Mr Udom Emmanuel, the Education-friendly Governor of Akwa Ibom State, has approved the award of scholarships to 500 (Five Hundred) indigent (very poor) but intelligent Akwa Ibom State students studying in Federal or State Universities in Nigeria beginning from the 2021/2022 academic session, valued at N200,000.00 (Two Hundred Thousand Naira) only for each student, per session.
The entry for the scholarship closes one month after the date of this publication, which is August 8, 2022.
Akwa Ibom State Scholarship Requirements
All applicants, including those who are physically challenged, must be registered, full-time students who are indigent (very poor) yet clever at either a state university or a federal university;
Applicants must be at least in their 2nd year of study;
All applicants must have a minimum cumulative grade point average (CGPA) of 3.50 on a 5.00 scale.
All applicants must produce testimonials from their institutions;
It is required of all candidates to submit a certificate of origin issued by their local Local Government Council in the state of Akwa Ibom;
At the time of application, the maximum age limit for any and all applicants is set at twenty-five (25) years old;
After completing the academic requirements, all applicants will be expected to state their parents' financial status/occupation/means of subsistence.
All beneficiaries will be required to submit academic results at the end of each session in order to maintain their scholarship eligibility based on their CGPA, which will be verified by the Ministry of Education / State Scholarships Board.
Any beneficiary who does not meet the required CGPA of 3.50 will be removed from the Scholarships Scheme.
Changing courses or institutions is not permitted while receiving scholarships.
Akwa Ibom State Scholarship Eligible Courses
The scholarships will be 70% (seventy per cent) for undergraduates studying Science and Technology and 30% (thirty per cent) for other courses, as follows:
Science and Technology courses include:

Aviation Studies
Marine Studies
Medicine and Surgery
Pharmacy
Engineering Studies
Agricultural Sciences
Physical Sciences
Biological Sciences
Mathematics
Geophysics
Artificial Intelligence
Geology
Oil and Gas related courses
Robotic Science, etc.

Other Fields of Studies:

Law
Arts / Humanities / Management Sciences
Education, etc.
How to Apply for Akwa Ibom State Scholarship
Suitably qualified undergraduates are invited to log on to www.moe.akwaibomstate.gov.ng and fill out the application form.
All shortlisted students will be required to come to the interview with the following documents:
Admission Letter
Testimonial from the applicant's Head of Department
Current Semester's Result / Statement of Result stating the CGPA
Birth Certificate / Age Declaration
Certificate of Origin from applicant's Local Government Council
Letter stating the financial status / occupation / means of livelihood of Parents of the applicant
Student's Identity Card